1.Pack your essentials
Camping with dogs is similar to taking a baby camping – you need to remember to pack all of the essential! These include: collar, short lead, extendable lead, towels, poo bags, familiar toys, water and food bowls, enough food for the start of your journey and dog bed.
2.Consideration of other campers and your surroundings
Remember that not everyone loves dogs as much as us so keep your dog on a lead when on campsites. Also remember to always take bags with you and clear up after your dog, and then dispose of waste in the appropriate bins. No doubt at some points your dog will need to be left in your campervan alone so before you go away on long trips make sure that your dog is comfortable being left alone and doesn't bark.
3.Dog safety
When driving it is important that your dog is safe. How you do this will depend on your dog; If your dog is used to travelling in a cage then this may be the best option. However, some dogs do not like being in a cage or are too big to realistically store a cage in your van. If this is the case, you can get dog harnesses which will clip onto the seat belts of your VW camper. It is important to note that you should check the laws for this if you are going abroad. For example, in Spain while travelling your dog must be restrained using a harness or equipment so as they do not distract the driver.
4.Train your dogs to only go out the side door
If you have a lively dog it is a good idea to train your dog to only go out of the side door of your campervan. This means when you open the cab doors or the rear door they won't suddenly come bouncing out your campervan. This means you can easily get things in and out the van without having to try and hold back your dog.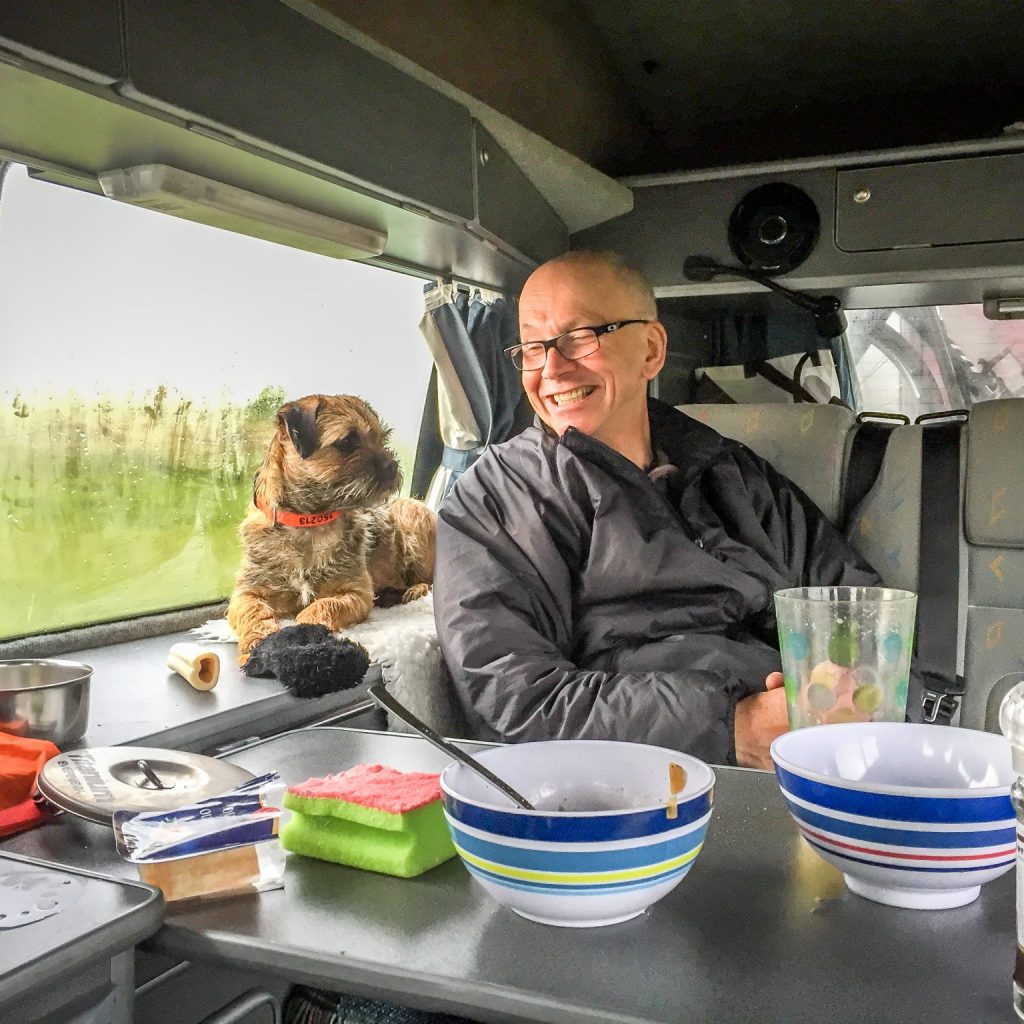 5.Don't leave the dog inside your campervan in the sun
Similar to leaving a dog in a car, it is important you don't park in direct sunlight on a hot day and leave your dog in your campervan. However, a campervan does provide more ventilation than a car if it has an elevating roof. So, if you do have to leave your dog in the campervan make sure you park out of direct sunlight, put up the roof with the roof flaps open, open the windows a few inches and leave them their water bowl. Remember not to leave them for long periods of time especially if it is a warm day.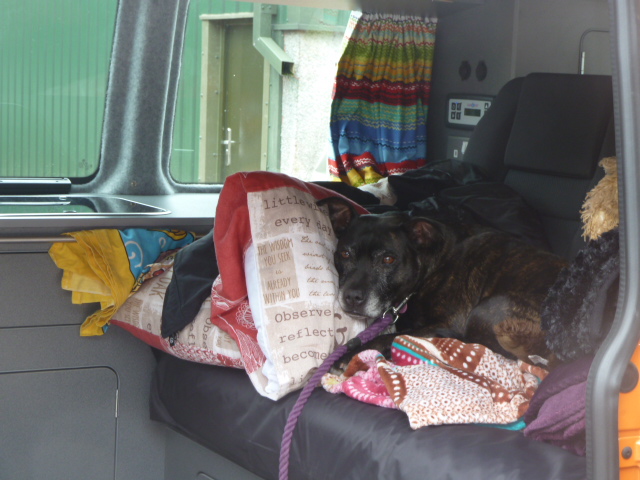 6. Going abroad?
Then you'll need pet passports. It is important to look at what vaccinations your dog should have before entering a country and make sure you take your dog's list of vaccinations with you. You also need to consider the rules of re-entering the UK with your dog after being abroad. To re-enter the UK your dog must be microchipped, have had a rabies vaccination over 21 days ago, and be treated for tapeworm. Click here for a map of the vets for the pet passport scheme where your dog can be treated before you re-enter the UK. As mentioned before it is important to look at the rules of travelling with dogs as different countries have different regulations.
7.ID Tags
It is a legal requirement in the UK that your dog be microchipped but is also worthwhile putting id tags on your dog's collar. This means that if your dog does decide to go off on its own adventures someone can quickly get in touch with you to let you know they have been found. It is important to make sure that the number on the tag is your mobile that you will be taking on your campervan holiday. You must put +44 at the start if you are going abroad so that the person can easily get connected with you.
8.Tie out stake
Dogs need to be under control and restrained when on campsites so don't forget to bring a tie out stake. This will mean that you can sit back and relax knowing that your dog is safe.
9.Check the campsites
Make sure you check before that the campsites you are going to while on your trip are all dog friendly. You don't want to end up having to drive around looking for a campsite that will take you and your furry friend.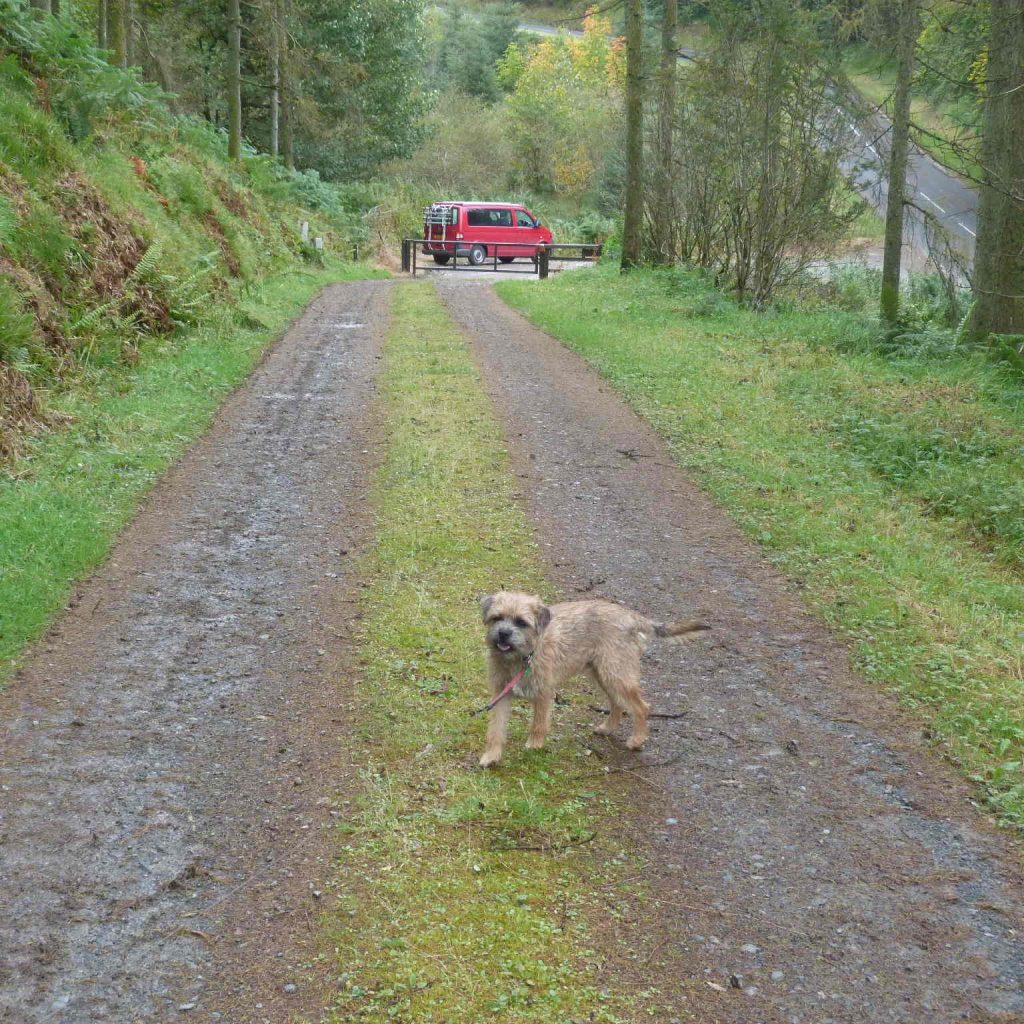 10.Stop for fresh air
It is good to stop frequently to give your dog a chance to stretch their legs – and you will benefit from this too! This will also give you a chance to give your dog some water and if you take them for a run around you will likely tire them out for the next part of your journey.