The Condons' Jerba Experience
In this blog article Sarah and Peter Condon tell us what has surprised them about their campervan and why they chose Jerba Campervans. They also give their advice to anyone else who is thinking of buying a campervan!
Why did you choose Jerba Campervans?
Because they are quite simply the BEST at what they do and the nicest bunch of folk you could wish to meet.
How we choose Jerba was initially down to first impressions. Trawling the internet one wet autumn night we liked the look of their website. Their site was engaging, well maintained, informative, and up to date. We followed up with a telephone call and fell in love with the team at Jerba immediately! You couldn't meet a nicer bunch of folk, and one of the many deciding factors for us was that Simon, the owner of the business, and pretty much most of the team at Jerba, are campervan owners themselves; they understand the concept fully, they live the life. Simon is incredibly innovative and is a real details man. The exceptional quality and robust build of Jerba vans is superb, customer service is outstanding, and the passion the team put into their vans is obvious as soon as you visit their base in North Berwick.
We went to meet Simon and David (who himself is a VW expert – what he doesn't know about the VW Transporter isn't worth knowing) and some of the guys on their stand in Birmingham at the Camping and Caravan Exhibition and the vibes were great – we knew we could trust them with our very important investment. They have never disappointed, and we are happy to say that we still keep very much in touch with the gang and feel we are very much part of their family.
Finally, they are VW registered body builders for the Transporter T6.
Canvas Roof up and Sun Canopy in place
What would you say to someone who's considering buying a campervan?
It is essential to do your research: Make a wish list, go to the shows and exhibitions, talk to people who have a campervan, ask them if you can crawl all over it and ask loads of questions. For us, it was important that we could pack up and go in minutes – we were fed up with all the time it takes to pack up tents and load cars, to 'fold' campers, mess about with jockey wheels and water barrels; we wanted to simplify things so that we could pack-away and go within 15 minutes.
Think about what type of trips you want to make; do you want to go touring for months on end, or do you want to be able to go with a moment's notice for short weekend breaks- or both. Think about your budget; can you buy brand new or second hand? Where will you be able to store a camper van and can you store it securely? When you are making your dream list of goodies and extras you'd like on your van, think about maximising the use of space whilst still enjoying sensible luxuries. After all, most of the time you'll be outside.
We had thought our camper would become my main vehicle, then we would just lease one car for Peter to use for work. However, we discovered that the cost of insurance would be extortionate because of the increased miles and increased exposure to theft it would do as a family vehicle, so we had to rethink this, and have continued with 2 leased cars.
If you choose to buy your own van and go to a conversion company check them out thoroughly beforehand and talk to people who've used them before so you are happy they'll do a good job.
Single Lane – you can just see our wing mirror right hand corner
The rull Rig – first time erection of awning, can't you tell!
Has anything surprised you about your campervan that you just didn't expect?!
The simplicity and practical design is impressive.
I think the thing that has impressed and surprised us the most is just how quickly you can roll up someone and get the kettle on – or in our case, the wine open! This has made travelling through Europe so simple and hassle free, and saved us a fortune! In our many years of camping we began to get so fed up with the hours it took to both pitch up and to pack up. We used to dread pack-up day! I guess this could have something to do with the fact that I tended to take the standard lamp for the awning, bird cage, dinner service, rugs and the kitchen sink!
Buying the campervan, keeping things nice and simple in terms of kit ("The Campervan Cookbook" by Martin Dorey is an absolute 'must buy'), and having the van stored right outside our back door means that we go away ALL THE TIME.
The major delight for us is that we can use our van ALL YEAR ROUND. We choose to have the wonderful and clever Wallas hob, so we have no naked flame inside (no keeling over with gas fumes), great to cook on, really easy to wipe clean, AND, best of all, it provides the most wonderful heating, running on just a capful of diesel – and all vented directly outside. In addition, we have no need to carry a gas bottle (valuable space saving).
We spent New Year 2017 with friends in a field in Wells-Next-The-Sea, in our favourite county of Norfolk, where we spend as much time as possible and where the sun seems to shine almost every visit. Thanks to our amazing solar panel and wonderful Wallas, we dined like kings and were in t-shirts and shorts (well, almost!).
Last but definitely not least, dreaming of long hot summer days in France, we have been thrilled with Simon's devilishly clever 'Jerba Jem' – his unique unzippable canvas roof, which elevates like a pair of neat bloomers with the simple pull of a cord, to let in a glorious cooling breeze! In fact ,our teenage son liked nothing better after a Sunday session at the pub in pretty Chipping (on a weekend up to Lancaster where he's currently at university) but to lie on 'top bunk' with roof open, reading The Hobbit and snoozing. Bliss.
Getting ready to party – New Year's Eve 2017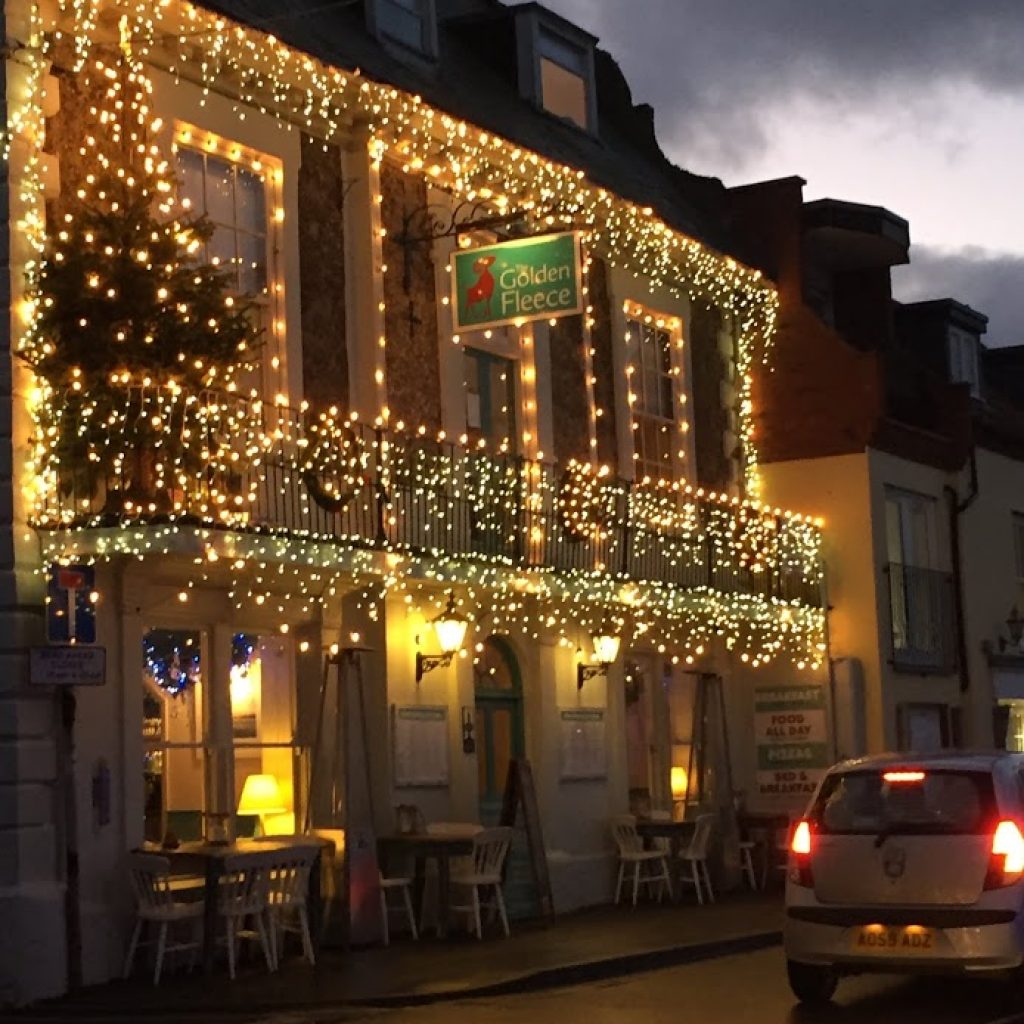 "The Golden Fleece, Wells-Next-The-Sea", Christmas Tides 2017