We've had "Brambles", our purple van, for three summers now. Even though we have loved our travels in France in Brambles, my two favourite trips have been closer to home. The first was our "tea and cake tour" of Yorkshire – we stopped in lots of quaint little Yorkshire towns and tested out the Victoria sponge in every one! The second was the North Coast 500 – we held our breath on some of those roads, but the views were just spectacular all the way. We could never have done either of these trips in anything bigger than a VW van – single track roads, hairpin bends, tiny tea shop car parks (have you ever driven through Robin Hoods Bay? Then you will know exactly what I mean!)
As Brambles is our fourth VW (although our first Jerba), we thought we knew it all. Hahaha! She proved us wrong!! Here's an extract from my 2016 blog:
"First day in France and already we have made a few rookie errors.
The first one happened when we put up the awning. We forgot that it only slides on and off the van in one direction. After putting it up, pegging it down, decorating it with bunting, pouring the first glass of wine to congratulate ourselves, we realised the only way to drive off is forward …. and we had pitched on the edge of a 10ft drop! After some cursing and a glass or three of wine, we decided to deal with it by … procrastinating. We don't actually have to drive away until tomorrow. Or the next day ….
The second and even stupiderer error came when we tried to hook up the electrics! No adapter! Duh! Why didn't we think of that? Luckily, Monsieur le Camping came to our rescue. Tomorrow's task – find an adapter for the hook up (after taking down and repositioning awning!).
Third and final error of the day came in the middle of the night, Himself decided to use the campsite "facilities" at about 3 am. And why not? That's his prerogative.
Unfortunately the van locked down while he was stumbling about in the dark and I was fast asleep inside… cue Man In Pyjamas "chapping at the windaes and keeking through the locks" until he managed to wake me from my slumbers. What's the point of having in-van facilities? Now he knows!"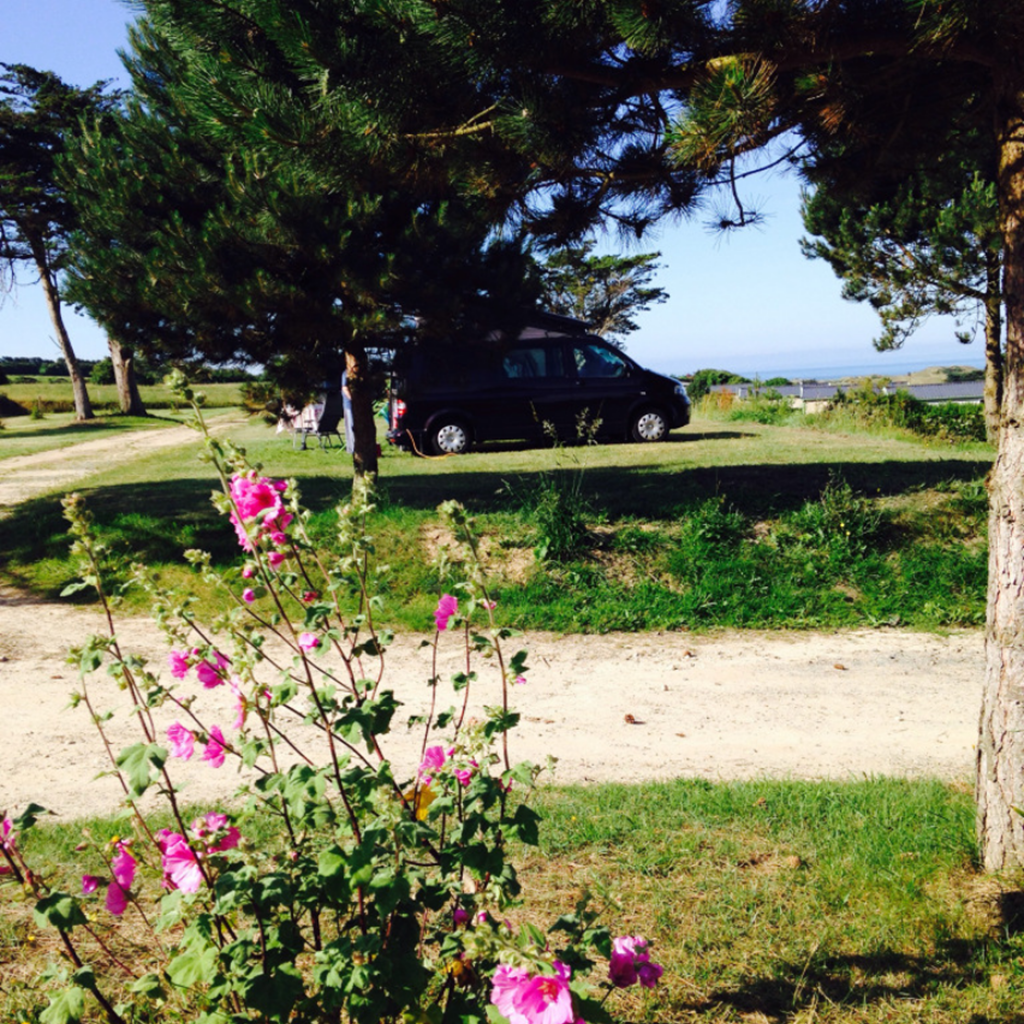 Top Tips For Awning Users
Hard-standing is a Good Thing, but …. how do you hammer in the tent pegs? Solution: buy rock pegs! They are genius!! Especially if you buy the luminous, glow-in-the-dark ones (never stub your toe on the pegs at night again!)
How do you hammer them in – doesn't your mallet bounce off them and give you a bloody nose? Solution: ditch the mallet – use a regular hammer. Works better all round.
How do you get the flippin' things out again? Solution: tent-peg remover! Buy 2, they break easily.
It's easy enough to drive away from your awning (so long as you don't park facing off the edge of a cliff!): how do you line it up accurately to drive back onto it? Solution: a) Put a sticker in the centre of your rear windscreen. b) Buy a collapsible festival flag pole (any tall stick will do, but finding one when you need it can be a problem. The flag pole collapses down into a small size for carrying around). When you park, put the flag pole in line with the sticker. Now, when you return, all you have to do is line the sticker and the flagpole up and reverse onto your awning. Perfect tension between awning and van! Sorted!
You didn't put your awning up. You drive off for the day. When you get back, someone else is in "your" spot. Solution: Buy an A-frame "reserved" sign and leave it on your spot. It's windy. Won't it blow away? Solution: Take an empty 2 litre plastic bottle plus a length of string with you. Fill the plastic bottle with water and hang the bottle from the centre hinge of the A-frame , an inch or so off the ground. (see photo)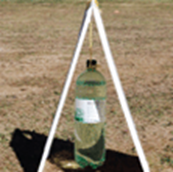 A- frame reserved sign
What would you say to someone who's considering buying a campervan?
Just do it – you will never regret it! Try a rental first so you know exactly what you want. Buy the smallest vehicle you can comfortably live in – it will take you to places bigger motorhomes just can't reach. You can always add an awning for when you need to spread out a bit. Also, with a camper rather than a motorhome, you can use it as one of your everyday vehicles.
Why did you choose Jerba Campervans?
We shopped around quite a bit before settling on Jerba. It was important to us to use a Scottish company – it made it easy to visit for initial discussions, and we thought it would be useful if we ever needed any help further down the line. We were right. The next consideration was the interior finish of the van. We didn't want an old-fashioned "caravanny" feel. We wanted a high quality, modern finish. Jerba provided just that. The interior design of the van we chose (Sanna) is very innovative – we have not seen anything else to match it, with the flexibility of the single/double bed slider. When the bed is used as a double, the extra space on either side gives the bed a much more roomy feel. We also love having the convenience of a proper flushing "convenience" on board! We knew as soon as we visited the workshop that Jerba was the company for us – the staff are so friendly and ready to respond to individual needs. For example, I've never been comfortable with the idea of carrying a gas-tank on board – Jerba suggested a diesel hob, with the added bonus that it freed up some cupboard space! I didn't even know such things existed! It's clear they know their business.
What's next?! Where are you planning to go in the months and years to come?
Next trip is the "Emerald Isle Tour". This one will take as long as it needs to – we have put a couple of months aside so we can take it at our leisure. After that, we have plans to do a Scandi-trip: we've never done that before because our old vans were a)unreliable b)poorly heated. Both of these issues have been overtaken with Brambles! Brambles has her own blog: www.gobrambling.wordpress.com.