We arrived at Comrie Croft just before the farm shop closed at 7pm. The staff at reception were very helpful in checking us in and provided us with a map and directions to the campervan area. It was here that we also bought our fire wood – very reasonably priced at only £1 for a bag of kindling and £6 for a large bag of logs. It is possible to also forage for wood in the High Wood area of the campsite.
We parked up at our spot and the views were great! Each campervan pitch (there are 4 spots – so make sure you book in advance!) had its own wooden picnic table, fire pit and fire saucer. This was down a small embankment next to the campervan and each pitch had its own set of wooden steps down. Please note that the site does not have electric hook ups.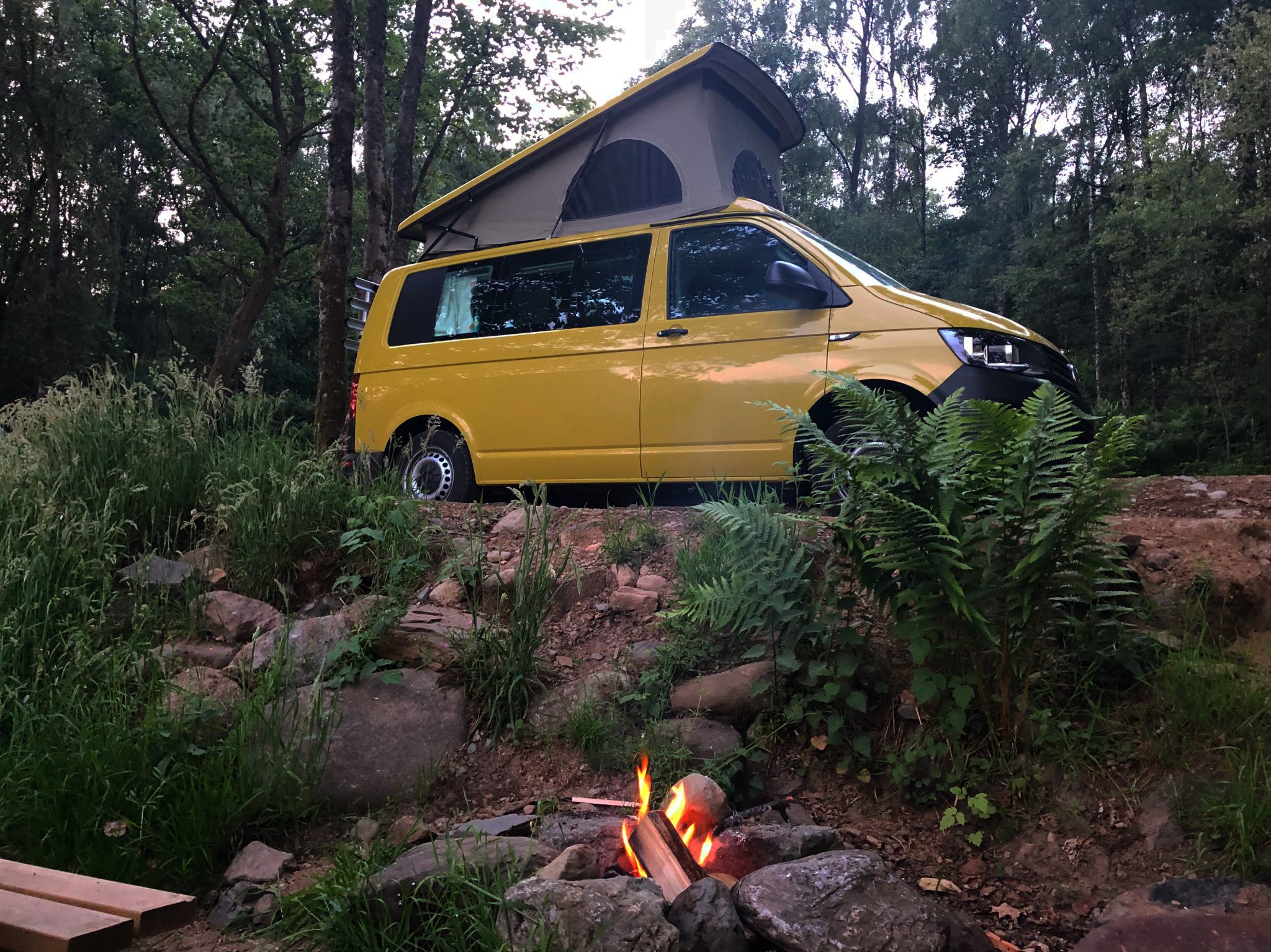 We lit our fire and got the cards and dominoes out taking in the beautiful surroundings. We went into the van to make a tasty Thai green curry and took this back out to the picnic table to enjoy al fresco. Before bed we had just enough time to toast a few marshmallows on the fire – crispy on the outside gooey on the inside is how I like my marshmallow cooked!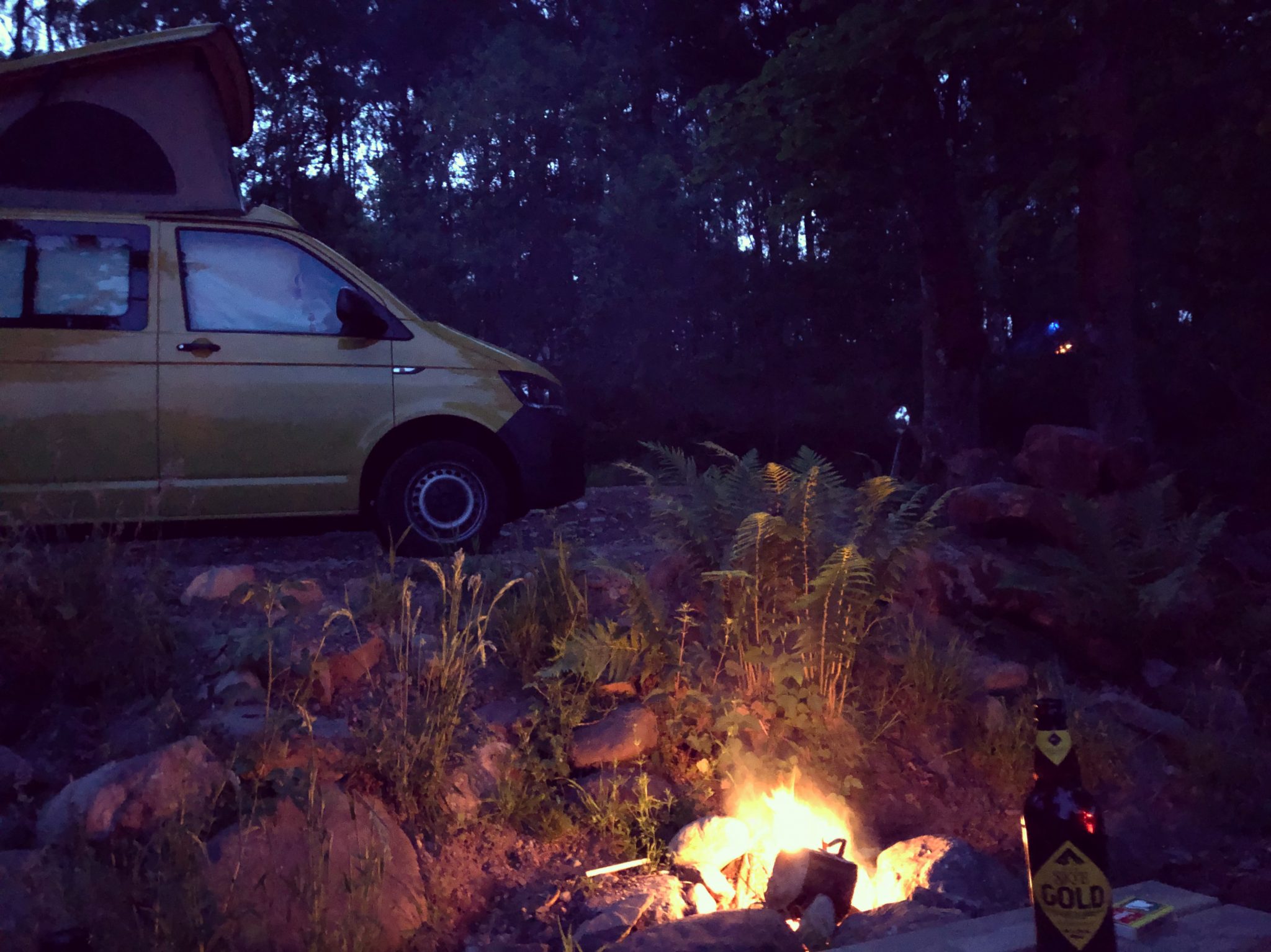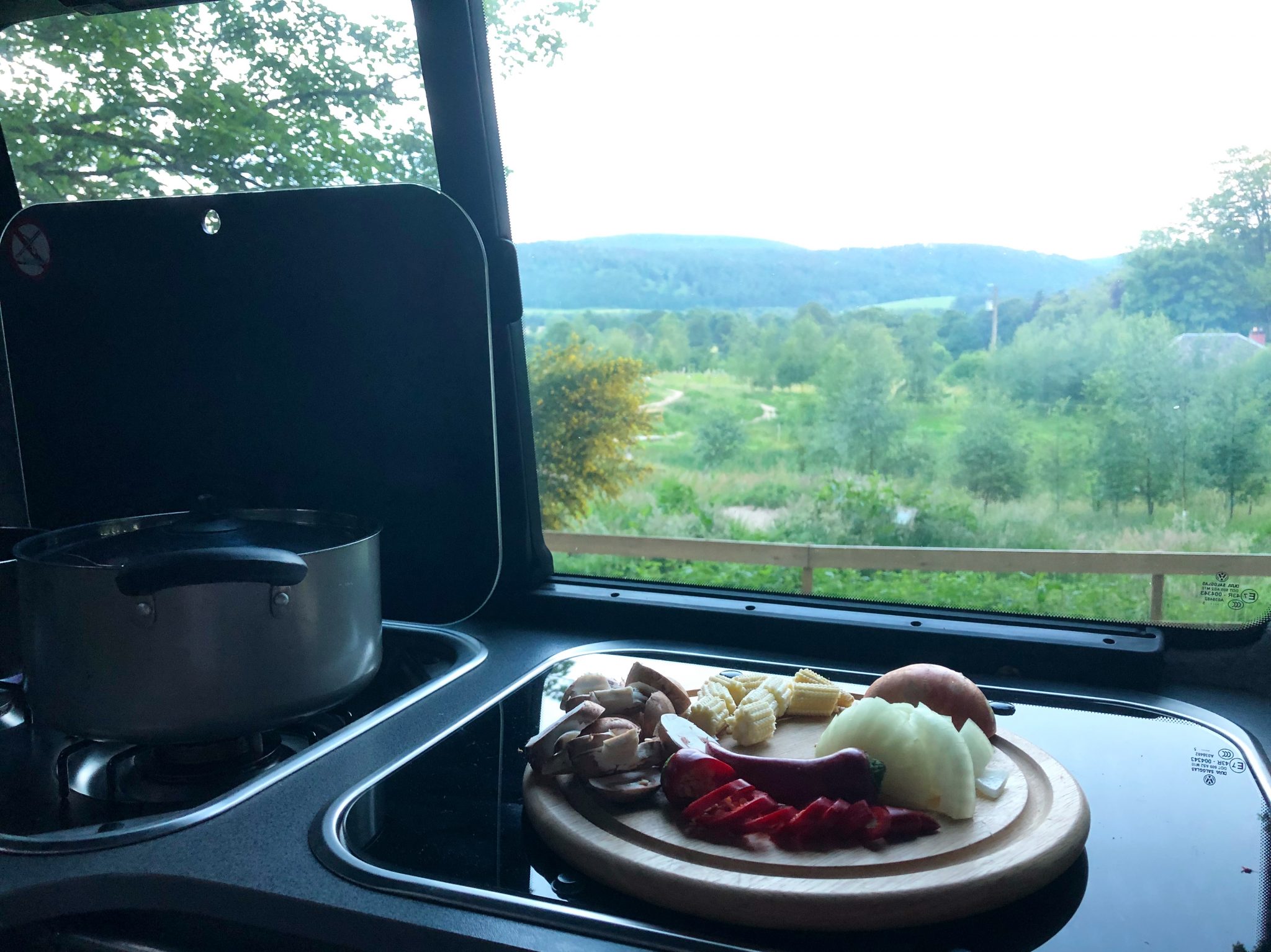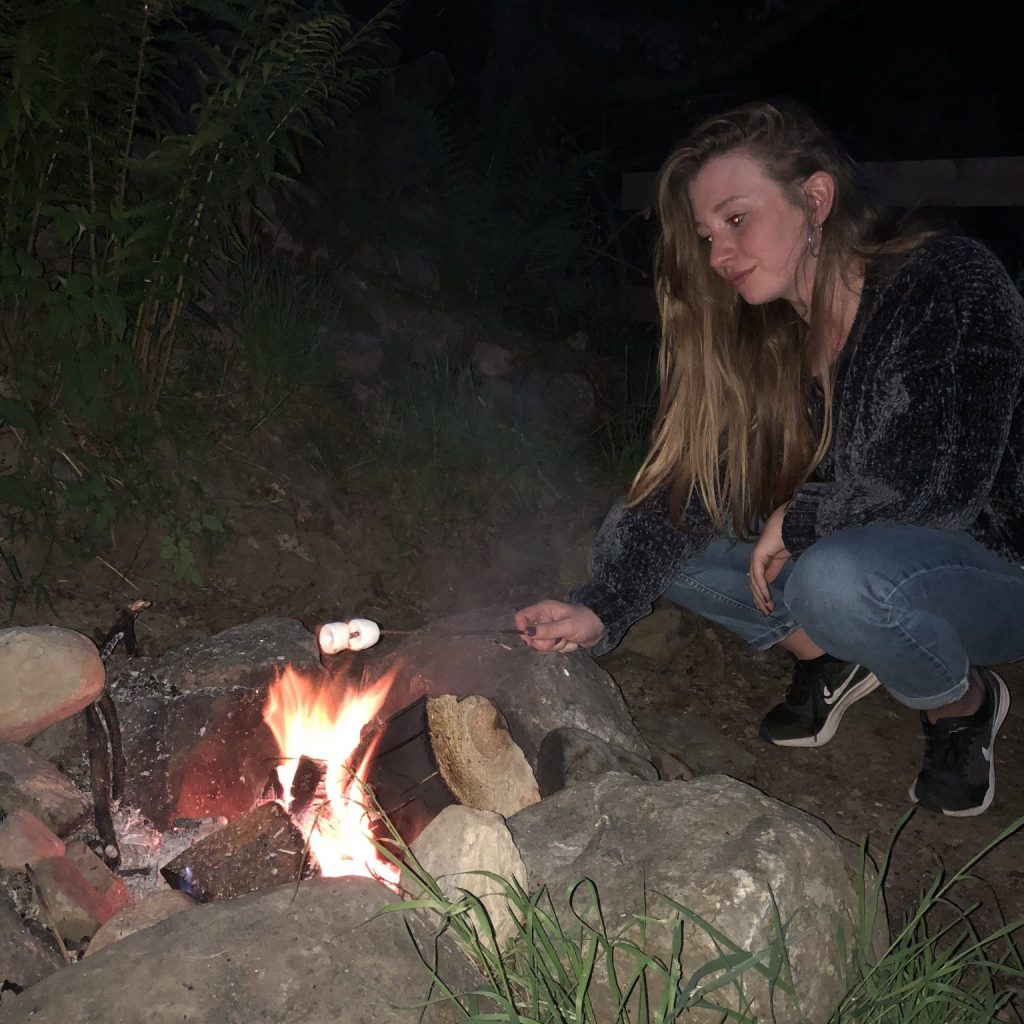 In the morning, we got up bright and early, it is now that I must point out just how amazing Comrie Crofts facilities were. I saw one review on their social media that said; 'roses are red, trees are green, we love this place cause the loos are clean!'- I honestly couldn't agree more with this!! The toilets were always immaculate (considering that this campsite also has the mountain bike trails I have no idea how they manage to keep it so clean!). Each toilet had its own sink and hand dryer meaning there was no paper towels strewn on the floor. I also noticed that all of their toilet roll was eco-friendly. The showers were just as good if not better – each shower room had plenty of space to hang your clothes up and put things down on the floor without fear of them getting wet and the shower was lovely and hot.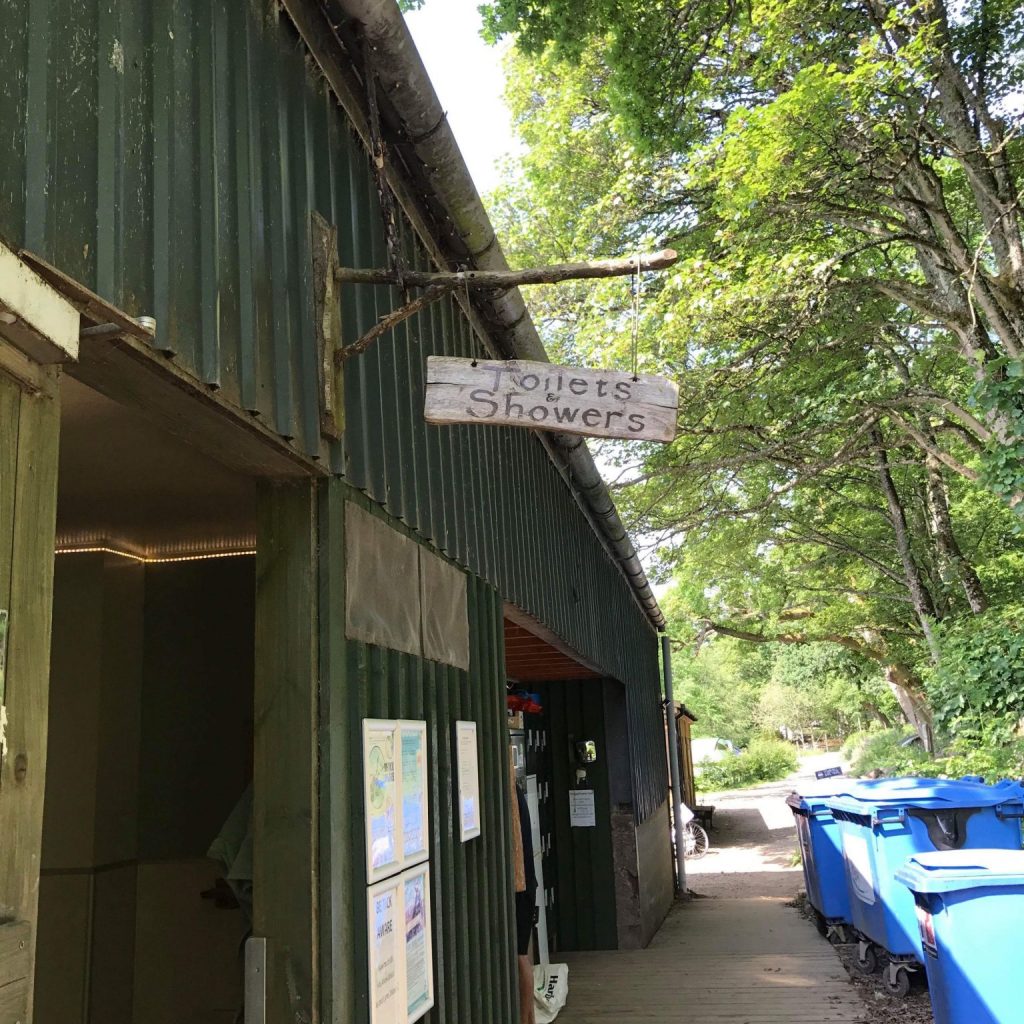 Once we were showered we had a quick bowl of cereal and we were ready for the mountain bikes! We didn't have our own mountain bikes, so we went down to the Comrie Croft bike hire shop on site and hired two bikes. Digby who was working in the shop was extremely friendly and quickly got us our bikes and helmets and pointed us in the direction of the trails. We started out on the small skills set trail which is located right next to the campervan pitches. There are lots of obstacles to choose from here with progressive table top jumps and the Jackie Chan drop line, rock garden and a little sprockets kids mini pump area. This is a great bit for kids – the family next to us (who happened to have a Jerba roof on their campervan) were able to sit at their campervan and keep an eye on their kids going around the trail – a great bonus of this campsite if you have kids.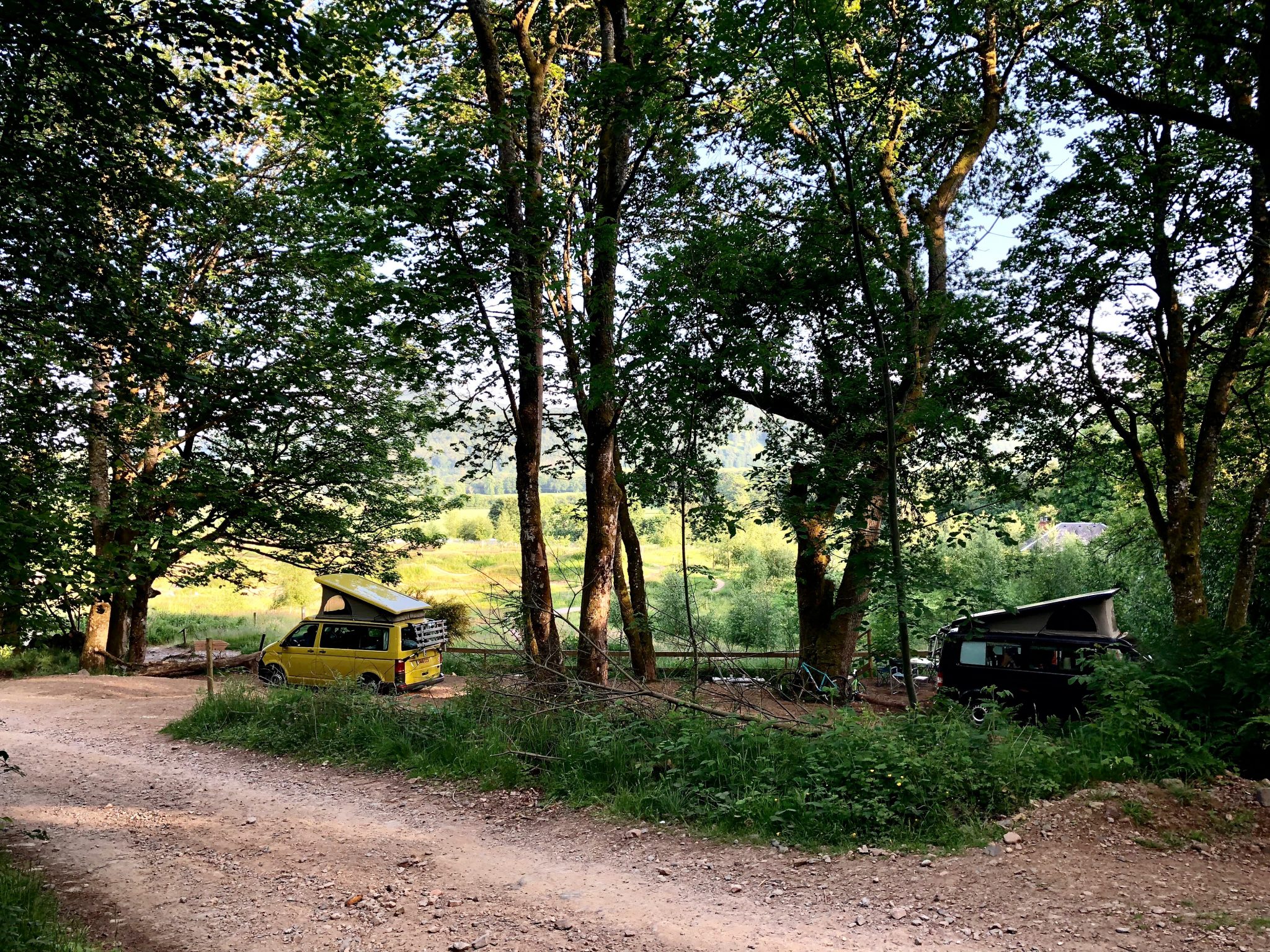 After we'd tested our skills it was time to go up and hit the bigger trails. It was a beautiful, hot, sunny day and although going uphill was a bit exhausting at times (I may have walked my bike up some bits) the downhill was truly exhilarating! We are not experienced mountain bikers having only been a few times before so we stuck to the blue trails but there were lots of experienced mountain bikers taking on the red and black trails which required a bit more skill. So, there really was trails for all abilities and even though we were on the easier trail It was still super fun and challenging!
I would definitely recommend Comrie Croft Eco-Camping Site especially to people with young families. The laid-back style of the place is evident from the minute you walk in and see campers all sat around their individual fires laughing away and having a few beers, but this laid-back style of camping doesn't stop the staff being attentive in anyway. A lot of thought and organisation has clearly gone into this campsite providing excellent facilities while also trying to make a greater impact on wider society – the campsite is trying to achieve Zero waste to landfill and has great recycling facilities where you can recycle pretty much anything. So, we would like to say a massive well done to them on their amazing campsite with great campervan pitches!