Firstly, the amazing winter scenery that you will see will leave you never storing your campervan for the whole winter again! Secondly, campsites are quiet which gives you peace and the option to choose the best spot. Thirdly, the days are shorter so you can see spectacular sunrises and sunsets easily! This article highlights the advantages of a Jerba Campervan in the winter and also provides five top tips for winter camping to ensure you are a cosy camper!
To ensure you maximum warmth in the winter all of our T6 Campervan conversions are fully insulated behind all side cavity panels with a non allergenic, non irritant insulation that is comprised of 85% recycled plastic bottles making it environmentally conscious. Our ply floors are also completely insulated, manufactured to our own design consisting of two layers of ply sandwiching a complete sheet of solid foam insulation. All the rear interior sides are fully trimmed in a specialised automobile carpet lining which also keeps your van warmer for winter camping trips and avoids condensation forming on the vehicle's interior metal bodywork.
Our optional features also increase your comfort during winter campervan trips. The Webasto Airtop 2000ST will give you hot air within a couple of minutes after starting it up and will run off your leisure battery. The thermostat digital control enables you to set how warm you want the van to be, the fan will then turn on and off accordingly to maintain this chosen temperature. The Wallas combined hob and heater has a thermostatically controlled heater which varies in speed as the temperature rises and falls-avoiding the on off on off behaviour of other hot air blowers. Winter camping will never be a chilly trip again with a Jerba Campervan!
This means that there is no reason for you not to go out in your camper in the winter months but before you do here are a few tips to ensure you have the best winter camping experience:
1. General Campervan Maintenance
Before you go winter camping you should stock up on antifreeze for your engine coolant and your windscreen washer fluid. You should also check your oil and water levels, and ensure that your tyres are at the correct pressure. If you are staying overnight in freezing conditions and you have an external water tank you should consider draining it to prevent it from freezing. You can always bring a water carrier inside the van with you to ensure you still have access to water.
2.Pitch Perfect
If you're not staying at a campsite, bear in mind some of the natural features which will make or break your stay. Overhanging trees, for example, might provide shelter but rain will drip from trees long after the shower has passed. Use a compass so that you align your camper to the sun to get the most of the natural light and wherever possible, park on flat ground.If you do plan to stay at a campsite make sure to double check that they are open all year round.
3.Be prepared for rain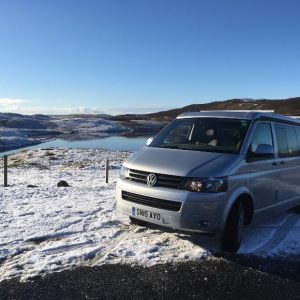 Rain doesn't need to dampen your spirits so make sure you pack your waterproofs. When going winter camping it is important to stay as dry as possible as any wet clothes will need to be dried inside the van. By wearing high quality waterproofs you will decrease the chances of condensation and cluttering up your van with wet clothes. An awning can also be handy in the winter to hang wet clothes up to prevent them dripping in the van. It is also a good idea to have some non-bulky indoor entertainment – films on a laptop or tablet, a deck of cards, book etc.
4. Be Prepared for the snow
If you are going to areas that are likely to have thick snowfall it is recommended that you take snow chains. Also pack a small snow shovel to ensure that you can dig yourself out after a thick overnight snowfall.
5. Pack for warmth
It is important to remember your winter warmers. Extra layers for when you are going out walking. Remember extra socks to make sure your feet stay warm- there is nothing worse than cold feet. If you don't have a hot air heater or you prefer to sleep with it off then don't forget to pack extra blankets or sleeping bag liners for a cosy night's sleep. Don't compromise on layers because you will only regret it, trust us! If it is very cold and you have an elevating roof then it is possible to sleep with the roof down – but you must make sure you open a window slightly to provide some ventilation