We've now had seven long adventures in our SWB T5 Tiree conversion and each one has been hugely enjoyable.
Last year's trip had a bit of everything.
From the Arctic to the Danube: around the Baltic and a bit more… 2017
An eight week + journey that took us across 12 countries.
After taking the ferry from Newcastle to Amsterdam we drove north via Germany and Denmark and across the famous Bridge to Sweden. On two of our previous trips we had been to the northernmost coast of Norway and Swedish Lappland and had seen a lot of northern Scandinavia; this time we took the Baltic coast road in Sweden, taking a couple of days out to visit the island of Øland.
Sweden – Polar Circle
Once again we crossed the Arctic Circle and spent a few days in Swedish Lappland before heading east to Finnish Lappland. In this part of the world it is relatively easy to find a forest hideaway to park overnight. We much prefer to be 'off piste' – which is becoming increasingly difficult to do in most of central and southern Europe, and indeed in Scotland. We do accept that, if there is no alternative, we will use campsites and we have been in a fair few: the good, the bad and the ugly. However with our small solar panel we can remain independent indefinitely. You won't find much on main roads, of course, so the secret is to explore minor roads and become familiar with the land usage and pattern of settlement of the region you are travelling through. Just bear in mind that wherever there is a track, you must assume someone will be using it, no matter how overgrown it looks at first sight. The golden rule is never to block any track, however obscure. You would be surprised how often when parked up in little forests, hidden from view, we have had (almost always) friendly encounters with locals who happen along. Always be scrupulous about parking sensibly and leave NO TRACE WHATSOEVER of your stay when you depart.
Sweden – Forest Camp
Another useful accessory is our little 12 volt water pump and short hose so we can fill up from streams even without access to mains tap water – this was especially useful in the far north of Scandinavia. A tip here: it's useful to have a wide-necked plastic jerry can from which to decant fresh water by this means. The pump has to be dropped into the water carrier – so the neck must be reasonably wide. Incidentally one of our house rules for stopping overnight is never to park in sight of anyone's dwelling and, where possible, to be completely hidden from public view. This is one of the reasons we have enjoyed travelling in the far north of Norway, Sweden and Finland. If only some of the legion of motor-homers who tour the north west highlands, where we live, followed these principles!
Finland – Russian border zone
Back to last year's epic road trip … We came south through the Finnish forests, keeping close to the Russian border before crossing their famous lake land – though there are so many trees you don't see that much of the water. After returning to the Baltic coast for a few days we headed back east to Helsinki from where we took the ferry across to Tallinn in Estonia. Here we had our first of three 'city breaks, putting the van in a hotel carpark and becoming tourists for the day. This is reason enough to drive a small van with an expanding roof. We have managed to use underground carparks and pass under 2 metre barriers that are very common in cities. Thanks to the internet and my trusty iPad I was able to pre-book both ferry and hotel from a forest site in western Finland so there was no stress in arriving at a strange city in the late afternoon – with a bit of help from Sat Nav.
Estonia – Tallinn
We explored a bit of the northern Estonian coast on the Gulf of Finland with its well preserved forest reserves. Here there are one or two free camping areas; elsewhere all camping is strictly forbidden. Next stop was the town of Narva where the river forms the border with Russia. The town itself is still very much ethnically Russian. Next we drove along the shore of Lake Peipsi, so big it's like an inland sea. Our route took us back and forward across Latvia and Lithuania, mainly through very rural landscapes. We did visit the Curonian Spit though that we thought was rather overhyped and spoiled by commercialised tourism. But where isn't these days? The best things that happen on trips like this is coming across something you didn't know anything about. Our second 'city break' was in the old town of Vilnius where we did discover a very fine restaurant on our walkabout which made a nice change from our regular van diet. (We tend to keep things very simple – strictly no frying indoors.)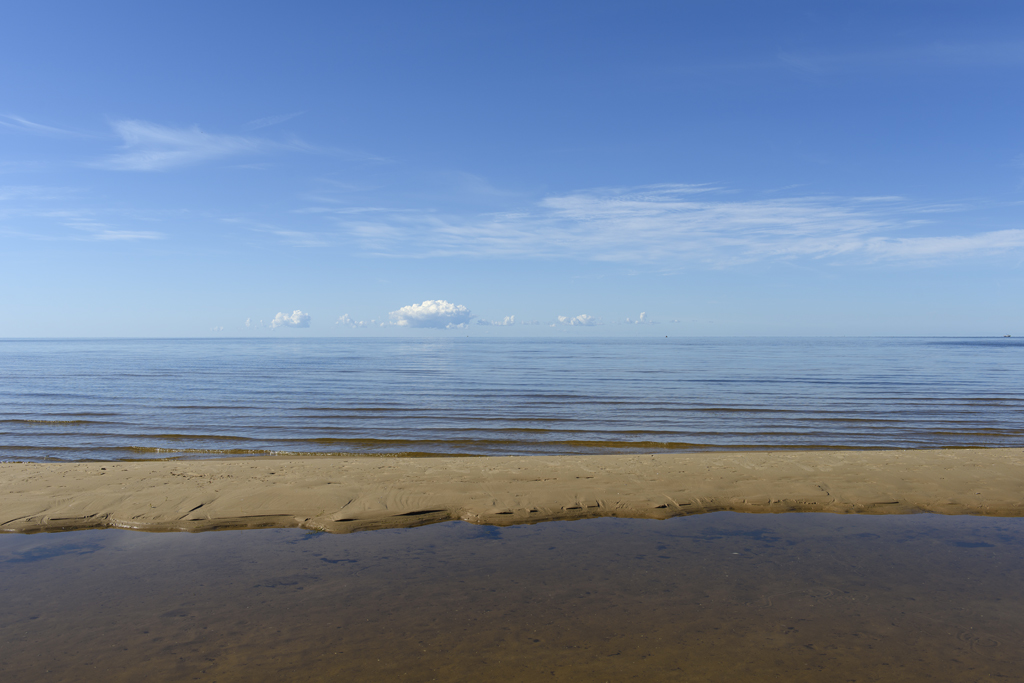 Lake Peipsi, Estonia
Poland was next and, once again, we kept mainly to minor roads – some almost as rough as Scotland's or worse. We saw something of the ancient forests, the last remaining remnant of the old European forests that once covered huge tracts of the continent. Alas, there is illegal logging going on there and we thought it prudent not to engage in environmental chat with the foresters or park up deep in this particular area.
Our third city break was in Krakow, another city steeped in history, before going south to Zakopane which is now a very busy little town at the foot of the High Tatras. You have to make an early start to be sure of getting up on the one cable car to the high ridge but it's well worth it for there is fine walking and quite a few climbing challenges for those who are brave enough. The border with Slovakia runs along this ridge, so you can literally have one foot in each country.
Poland-Slovakia, High Tatras
Our last chance to camp 'in the wild' came in the central valleys of Slovakia. After that it would be campsites and, let's own up, a few guest houses – and far too many schnitzels – as we looped our way home via Hungary and across Austria.
Finally we faced the long drive back to Amsterdam through Germany but we decided to break this journey up by visiting the ancient towns of Bamberg and Aachen where Charlemagne had his Imperial Palace in the early 9th century – reminding us of the first great post-Roman unification of Europe where Charles employed teachers and scholars from the British Isles to re-educate Gaul. Changed days!
The above is the briefest summary of a 8,000+ mile road trip that was packed with points of interest.
Finland – on the Arctic Circle -Forest Camp
Has anything surprised you about your campervan that you just didn't expect?!
Not really. We knew what we wanted and Jerba delivered.
Poland – High Tatras
What would you say to someone who's considering buying a campervan?
Jerba will build you a van which has been carefully thought through in every detail and is exceedingly practical. They will also provide excellent after sales service.
West Mainland Shetland, Littleure
Why did you choose Jerba Campervans?
I found them on the internet and rang Simon. After talking with him we knew we had found the right converter and when we visited the workshop prior to committing, we were even more sure we had come to the right place.
Italy Dolomites, Passo Fedaia
What's next?! Where are you planning to go in the months and years to come?
We're just back from a short (a month is short for us) trip to the Dolomites. Usually it takes a few weeks for the next idea to gestate. Whatever we do it will be hard to top the seven long trips we have already done.
Part of our thinking in undertaking our European tours was the threat that such freedom of travel we have enjoyed may not last forever so we, being Europhiles, believed this was something we had to do before history turns back on itself. We hope that doesn't happen – but what better way of getting to know our neighbours than a long road trip in a Jerba Campervan? So many interesting encounters, so many fascinating places, so many beautiful nights in the nordic forests. What's not to like?
Italy Dolomites- Sassolungo from Col Rodela