Make these pancakes– Jacky Little's Scotch Pancake Recipe
1. Eggy Bread
As a child going on family camping trips this was my absolute favourite breakfast! It is simple to make and is high in protein and carbohydrates giving you the perfect start to a day of adventuring. This recipe is for 2 but you can simply double it if you have extra hungry mouths to feed.
Ingredients
4 slices of thick white bread
2 large eggs
4 rashers of bacon
3 tbsp maple syrup
1 tbsp olive oil
Salt & Pepper to taste
Method
Put the olive oil into your frying pan and let it heat up.
Put your rashers of bacon into the pan and fry until crispy. While your bacon is frying mix your eggs in a large bowl with a fork and add a pinch of black pepper.
Take the bacon out of the pan and put to one side.
Dip your bread into the bowl of egg mix making sure to cover both sides and place into the same pan that the bacon was fried in. There is no need to add salt to your egg mixture due to the salt that will be in the pan from the bacon fat.
Fry on both sides until golden brown.
Put the eggy bread on a plate and place your bacon on top and drizzle with maple syrup. Delicious!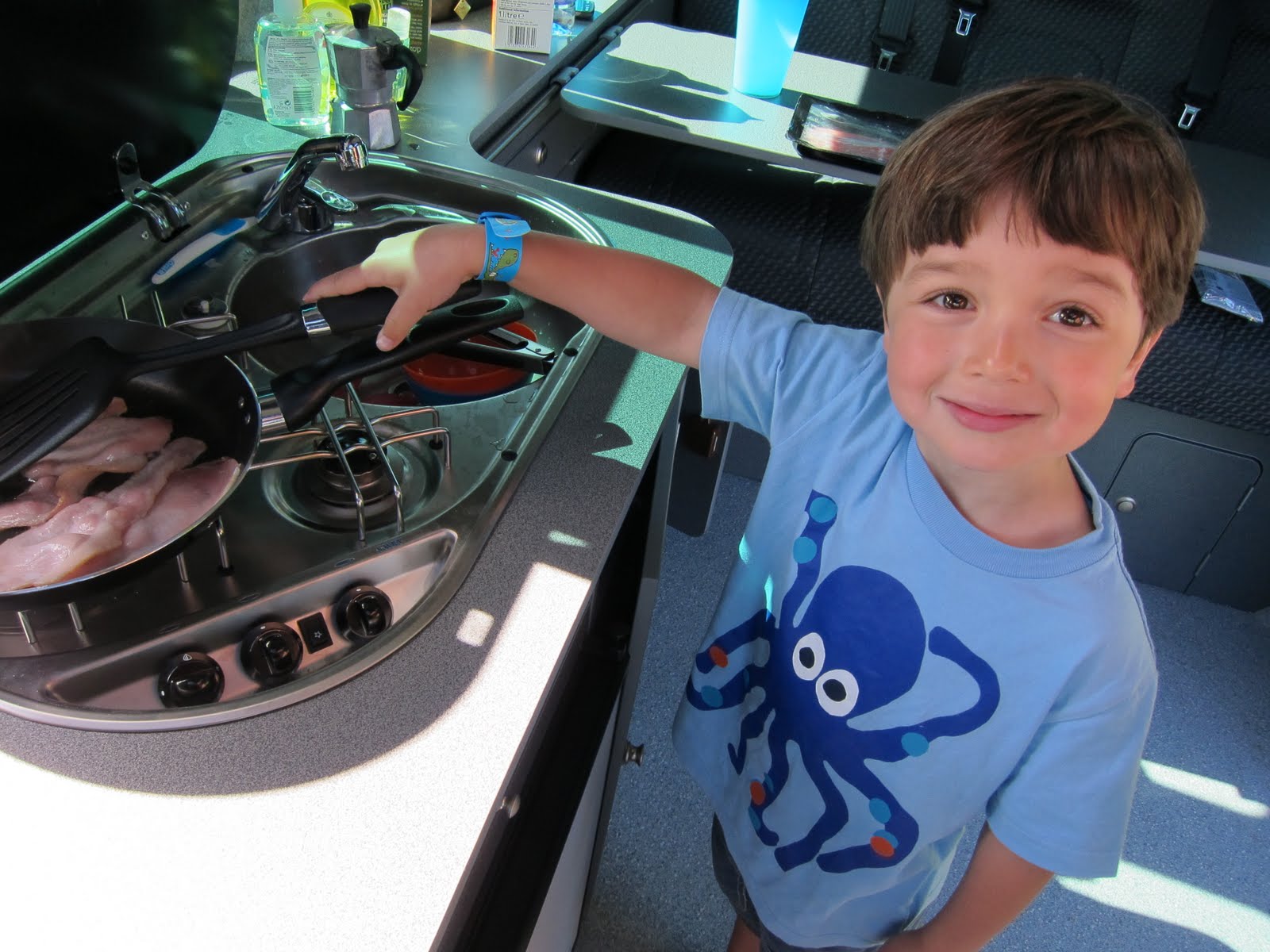 Top Tip!
You can turn this into a savoury breakfast or lunch by making a simple cheese and ham sandwich dipping this into the egg mixture (add a pinch of salt) and then fry on both sides until golden brown. Serve with some fresh chopped tomatoes. This takes a cheese and ham toasties to the next level!
2. Pancakes
The breakfast of champions – and often those with a sweet tooth!
This recipe for pancakes will make enough pancakes for 4 people but if there is only two of you, you can put left over batter into a tub and keep in your fridge for tomorrows breakfast!
Ingredients
135g plain flour
1tsp baking powder
½ tsp salt
2 tbsp caster sugar
130ml milk
1 large egg, lightly beaten
2tbsp melted butter
Method
Sift together the flour, baking powder, salt and sugar into a bowl.
Add the butter to your frying pan to melt and then pour into a separate bowl than your flour mix. To the butter add the milk and then the eggs and whisk together.
Combine the flour mix and the egg mix together and leave the batter to stand for a few minutes.
Add another small knob of butter to your frying pan and when this has melted put in a ladle of the batter or two if you can fit two pancakes in your pan.
When the top of the pancake starts to bubble you can then flip them around and cook until both sides are golden brown.
Add whatever topping takes your fancy- berries, maple syrup, bacon, chocolate spread…the list is endless!
Repeat step 4 – 6 until you are full up!
To make the pancakes pictured at the start of the article follow Jacky Little's Scotch Pancakes Recipe – Jacky is a proud Jerba owner and our queen of campervan breakfasts!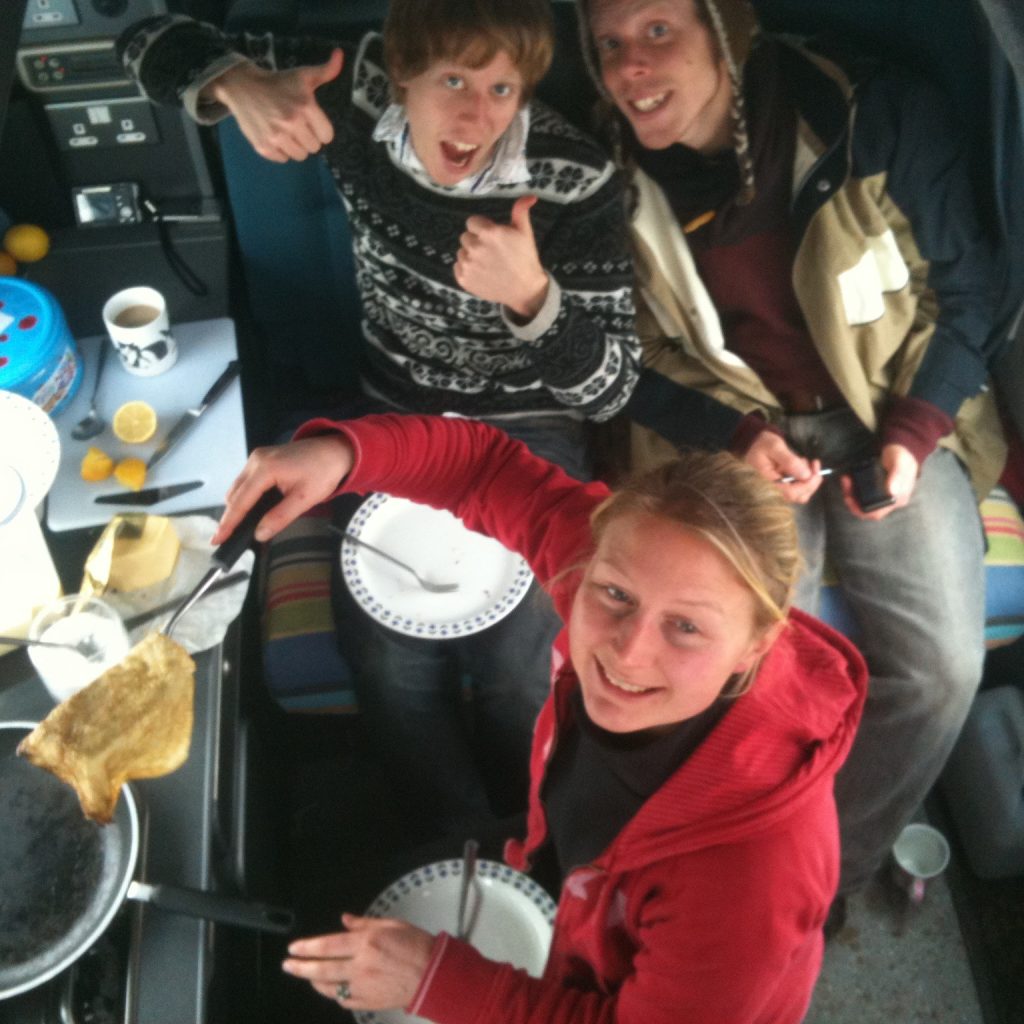 Top Tip!
To make a pancake that is simple, high in protein and low in fat why don't you try banana pancakes! Simply whisk up 2 eggs and add one mashed banana, and then fry- as simple as that!
3. Boiled Eggs & Toast
A simple but effective breakfast! If you've already perfected a runny boiled egg and toast in your van check out the top tip for a great idea you might not have thought of – using the egg box as an egg cup!
Ingredients
4 large eggs (not refrigerated)
4 slices of bread
Method
Place a frying pan on one side of your hob and a small pan on the other side. If you have a Wallas hob keep the frying pan on the hotter side.
Add your water to a small pan and bring it to the boil. Carefully place your eggs into the pan – don't just drop them in because they might crack.
Leave your eggs to boil for 5 minutes and then you will have perfect runny eggs.
While your eggs are boiling place 2 slices of bread onto the frying pan and toast on each side for 1 ½ mins or until golden brown, then add the next 2 slices. A top tip is to place your glass hp bottle or something similar on top of the bread to keep it flat against the pan for better toasting.
After 5mins remove the eggs from the pan and make sure to cut the tops off them so they stop cooking- similarly if you cut it and they are not cooked enough, put the top back on the egg and they will continue to cook.
A great way to add some extra protein to this is by adding some avocado – before you start your eggs simply mash an avocado in a bowl with a fork add in some chopped tomatoes and a pinch of salt and pepper.
Top Tip!
Use your egg box as an egg cup! This helps free up storage space as you don't need to bring an egg cup and it makes your egg box smaller as you use your eggs. Simply just cut out the part of the box where you egg was being stored – if you have kids they can get creative and colour in their 'egg cup' while they wait for the egg to boil!
Simon Willis' guest blog series on active lifestyle sports highlighted the advantage of having his breakfast in his van when it comes to competing in triathlons. Read all about the benefits of having a Jerba Campervan for competing in triathlons and the excitement of the sport here.