Our decision to use Ventile fabric on our canvas has provided many important advantages to our Jerba pop top roof and this article considers the four main ones. This is important as even with all the insulation in the rest of the van, a comfortable bed and interior heating, if the roof canvas is not providing ventilation and keeping out wind chill and rain then there is little chance you will have a comfortable adventure in your campervan.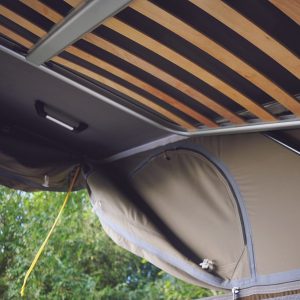 History of Ventile
Ventile Fabric dates back to World War II when there was an urgent demand for new protective clothing fabric that was both comfortable and also kept pilots warm and dry in the sea to improve chances of survival. Ventile helped extend the life expectancy in the sea from just a few minutes to over 20 minutes. This meant that 80% of pilots who fell into the sea now survived.
This protective and durable nature of the cotton provides a number of key advantages when using it on our Jerba roof canvas:
1.Prevents Condensation
Ventile provides better ventilation than other synthetic based fabrics used on elevating roof canvases. This helps to minimise condensation, this is great for when you are using your VW T5 or T6 campervan, especially in the winter.
2. Increases Water Protection
With our unpredictable British weather, it is important that your roof canvas can withstand extreme wet conditions. The Ventile Fabric absorbs a small amount of the water causing the fibres to swell and stop any water seeping through into your campervan. Furthermore, Ventile also dries quickly.
3. Prevents Wind Chill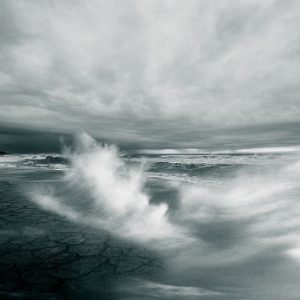 The close weave of  the Ventile cotton prevents wind passing through the roof canvas, helping to avoid any wind chill from entering your campervan. Ventile has been used by explorers on  major Arctic, Antarctic and Himalayan expeditions. This conveys the confidence placed in Ventile by professionals operating in the world's most dangerous and hostile climates.
4. Peaceful Night's Sleep
Ventile Fabric is a natural fabric which makes it comparatively 'rustle free' when compared to a synthetic roof canvas, ensuring a much more peaceful night's sleep.
There is much more to our Jerba Elevating Roof than just the Ventile fabric; the Ventile canvas can be removed in 5mins at home and replaced or dried, it has watertight zips, seam sealed stitching, high specification gas struts, secure roof locking system, tough midge proof screens and much more. Watch our informative video which will provide you with all the information you need to know on our high quality roof!