All our T6.1 campervan conversions are fully insulated behind all side cavity panels with a non allergenic, non irritant insulation that is comprised of 85% recycled plastic bottles and is an excellent and environmentally friendly insulation.
UK manufactured by YBS Insulation it carries the brand name Non Itch, it has excellent Thermal Resistance and it is totally free from floating fibres or dust so avoids skin irritation and respiratory problems often associated with other forms of insulation. Being a plastic based product Non Itch will also never absorb any moisture or water and it also rates highly for sound deadening properties.
Our ply floors are manufactured in the UK to our own design and consist of two layers of birch ply sandwiching a complete sheet of solid foam insulation – meaning you have insulation across the whole of your floor. Our bespoke approach helps you retain more warmth inside your campervan in the winter and also improves the sound deadening.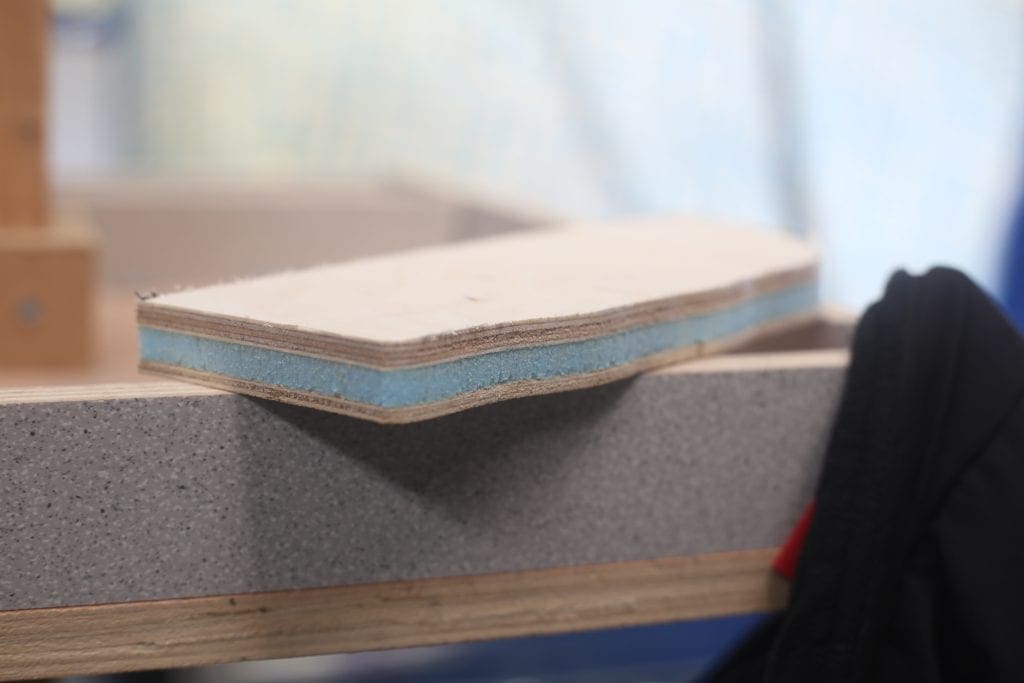 All the rear interior sides are fully trimmed in a specialised automobile carpet lining. This keeps you warmer in the winter, cooler in the summer and avoids condensation forming on the vehicle's interior metal bodywork. We don't simply clip on plastic panels or avoid trimming difficult areas.
For the floor finish we find that most customers are looking for a practical easy cleaning solution which is hard wearing and most importantly non slip, so we fit a commercial grade vinyl that you'd normally find in locations such as sports centres. Manufactured by Manchester based flooring specialist Polyflor, it is available in a range of colours and finishes, wet shoes will always find a grip and with a super tough material you certainly wonít find the floor ripping, chipping and tearing.