Long Wheel Base - High Top
Fully Belted RIB Travel Seats For 4
Two Single Beds - Double Optional
Long Wheel Base - High Top
Fully Belted RIB Travel Seats For 4
Two Single Beds - Double Option
Classic VW campervan layout
Long wheel base - High top
Full belted RIB travel seats for 4
Two single beds - Option for double
Full Belted RIB Travel Seats 4/5
Short Wheel Base – 2m High
Full Belted RIB Travel Seats 4-5
Double Bed – Extra Wide Option
The Jura is one of our VW T6.1 campervan conversions and features a long wheel base van with a VW factory fitted solid high top roof.
Including a fixed toilet and washroom area with full height folding privacy door, rear kitchen, ample high & low level storage and two single rear seats which form two single rear beds – with the option of a double.
This truly is a spacious campervan conversion.
In mid 2024 VW will be ceasing production of the T6.1, so w
e are sorry to say that we are now unable to take any new orders for our Jura campervan built on a brand new vehicle . A
new design van is soon to be launched in conjunction with Ford – as soon as we have details they will appear here!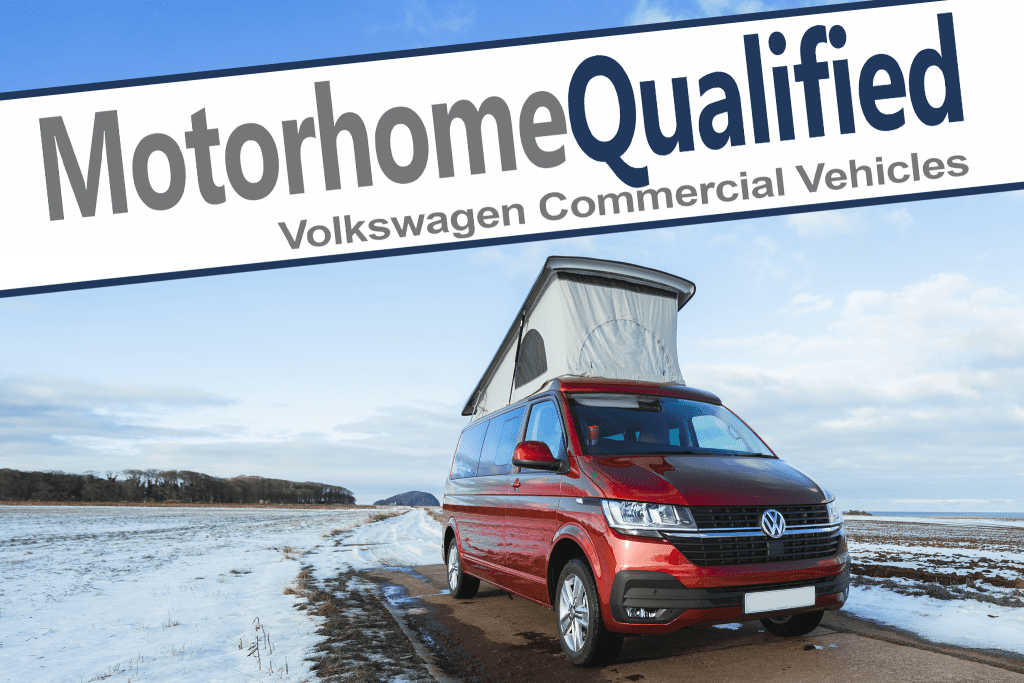 We are recognised as a Motorhome Qualified Converter by Volkswagen – a recognition only awarded by Volkswagen to established converters who meet their rigorous quality standards.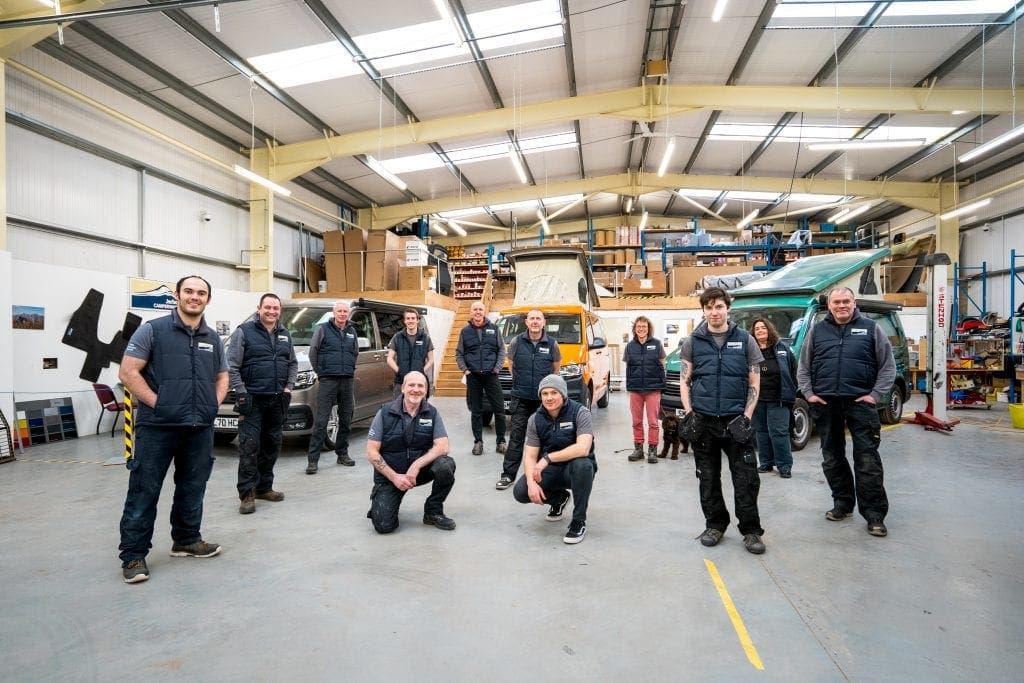 We are a 100% Employee Owned business  – our staff understand the importance of valuing customers and are fully engaged in ensuring we provide the very best in product & customer service.
Our Jura T6.1 campervan features a High Top Roof that comes factory fitted from Volkswagen themselves. We then fit a skylight and side windows to make a bright and comfortable campervan.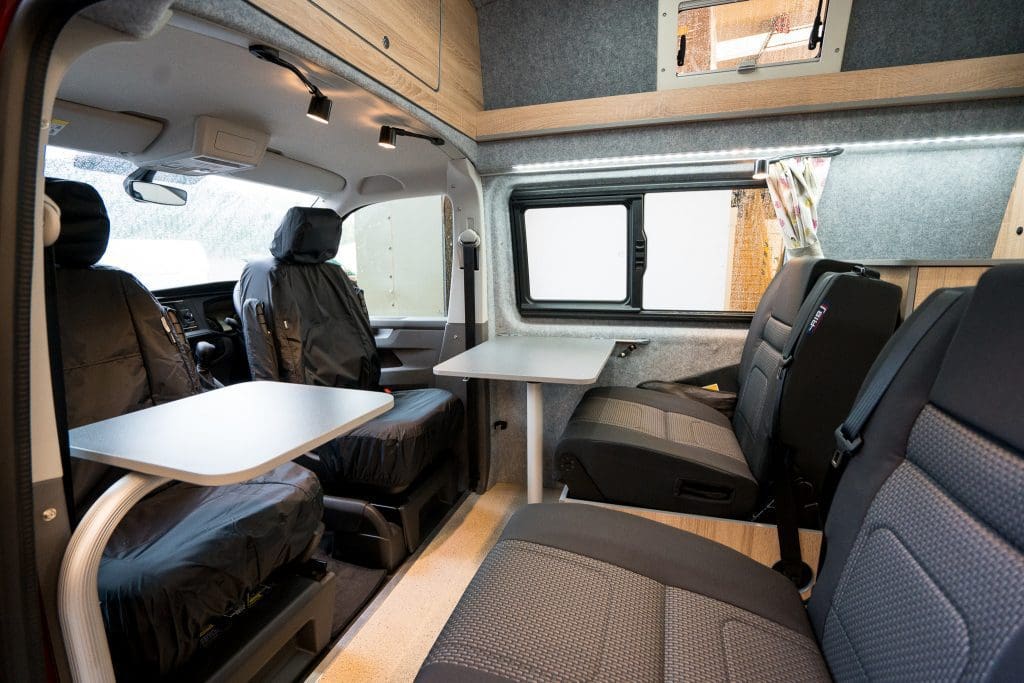 Our base price includes a wide range of standard features for both our campervan conversion and the VW T6.1 base van – we also offer a wide range of optional features from which you can choose.
Click a section below for more details.
Our standard conversion specification includes everything you need to set off on a trip – we don't leave out vital elements, our campervans are ready for the road. 
The key standard features of our Jura conversion include:
VW High Top Roof
A top quality solid high roof that is manufactured and factory fitted by Volkswagen. Fully insulated and trimmed inside but still giving 187cm (6ft 2″) of internal headheight with a finished external vehicle height of 250cm.
Cupboards and Tables
The clever design of our Jura furniture squeezes a lot into the rear of the T6.1 and combines a full kitchen, with ample storage and a fixed cassette toilet that is closed off behind a privacy door. We don't simply assemble premade furniture kits, we scribe, cut and edge band in house and treat every camper van as an individual project.
Seats and Beds
Belted seats for 4 people, tested by Jerba Campervans to full Type Approval safety certification. The French made rear RIB seats convert with swivelling front seats to form either 2 single beds, each measuring 60cm x 185cm, or the option of a double bed measuring 120cm x 200cm. Integrated headrests and contoured seating means these seats are comfy for both travel and sleeping. Both VW cab seats are fitted at the factory with swivels and turn easily to face the rear.
Fridge, Hob and Sink
The Jura is built with the same worktop height as a standard kitchen counter in your home, with a three burner SMEV gas hob and combined sink alongside and a 51 litre fridge that is raised up for easy access, the kitchen area is easy to use with plenty of counter space and everything easy to hand. On the vehicle underside we locate a 38 litre water tank which frees up even more cupboard space.
Gas & Electrics
A fully sealed steel gas box as standard, top grade electrical parts by UK manufacturer Sargent and individually tested certification from qualified gas and electrical engineers are standard in our Jura T6.1 conversion. With a VW factory fitted Varta AGM leisure battery system there is excellent 12v capacity and longer battery life.
Insulation & Flooring
With a fully insulated bonded birch plywood floor and vehicle side cavities filled with Non Itch insulation we aim to keep you as warm as we can. The commercial grade vinyl flooring is as tough as it comes, has a non slip finish, is simple to wipe clean and looks great!
Awning Rails, Awnings and Sunshades – to attach any awning to the side of your T6.1 then you'll first need an awning rail. The rail we use blends in to match the van and we stock a small range of high quality free standing awnings and sunshades.
Bike Rack – an easy fold down bike rack system that can carry up to two bikes on the double rear doors. No need to remove the rack when it's not in use.
Grill or Warming Oven – if you can't be without your toast or crispy bacon then a grill may be a must for you – but remember that it will be at the cost of cupboard storage space. You can easily make toast though on our Wallas diesel fuelled hob option, so that's worth a look!
Leather Upholstery – change the look and feel of your campervan with full leather seating on the cab and the rear seats.
Double Bed Option – a slide system fitted to the rear twin seats mean you can bring them together at night to form a 120cm wide 2m long double bed.
Slide Window Midge Screen – keep the smallest of biting insects out of your van with our midge screens made specifically to fit rear side slide opening VW T6.1 windows. On the sale of every individual midge screen that we donate £5 to ShelterBox, who supply emergency aid, including mosquito nets, to people around the world who have been affected by natural disasters.
Safe Box – with 3mm solid steel sides and a high quality 8 lever lock, our safe boxes are always securely located fully out of sight. Easily big enough for an ipad and other essentials to be hidden away.
Solar Panel – 100 Watt Roof Mounted Solar Panel – gives you great independence in the summer months away from a mains supply or the need to drive in order to recharge the leisure batteries.
Soft Thermoflex Lining to Beds – this internal lining layer not only makes your bed softer but also allows air to move beneath the fabric and quickly dry out any condensation.
Wallas Diesel Fuelled Combined Hob & Heater – for a gas free camping experience try the diesel fuelled hob & hot air heating all in one option – enjoy more boot storage space, an easy clean glass surface, a single fuel source, no gas worries and reduced condensation. There are plenty of positives!
Waste Water Tank – there are definite pro's and con's to having a waste water tank on your campervan, we hope our explanation will help you decide!
Webasto Airtop Hot Air Heating and Cool Blowing Fan – to use your campervan all year around you'll often find a hot air heater is a valuable friend – we can also adapt heating systems into cooling fans for the hotter summer days.
Webasto Thermo Top Evo Combined Hot Water and Hot Air with Optional Shower – blown hot air and continuous hot water from a heat exchanger plate – not a small storage tank. All from a diesel fuelled system. You can even have a shower at the rear of the van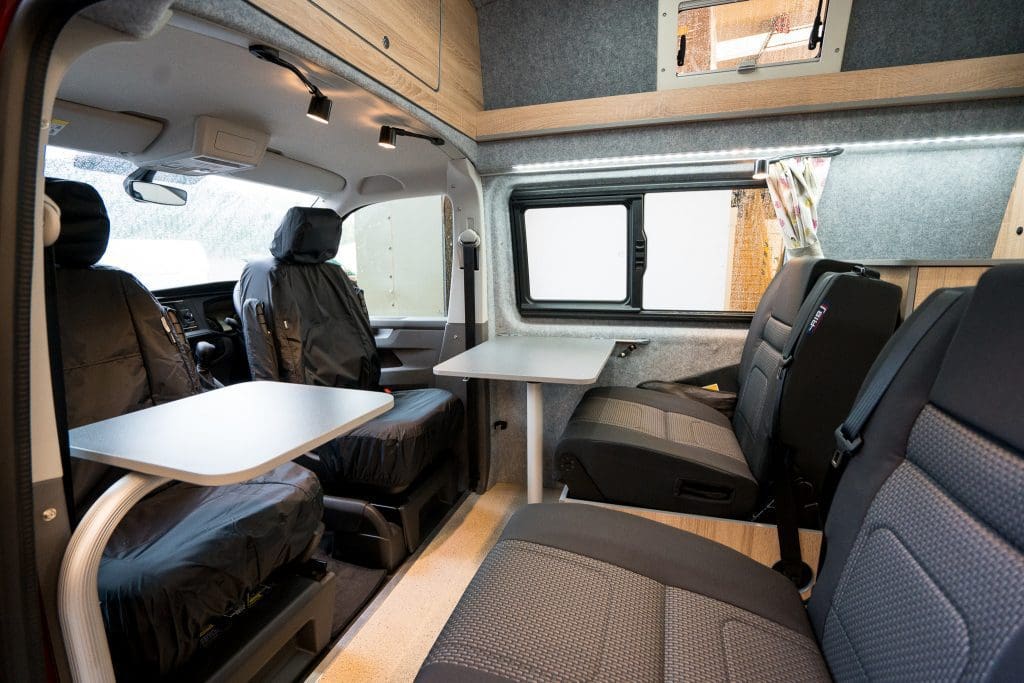 1. Swivelling Passenger & Driver's Seat
3. Rear seats with belted seating
4. Counter with drawer and fridge beneath
5. Full height wardrobe or shelved cupboard
7. Three burner hob with combined sink
8. Full kitchen storage unit/ counter space
1. Single beds with option for double
2. Counter with drawer and fridge beneath
3. Full height wardrobe or shelved cupboard
5. Three burner hob with combined sink
6. Full kitchen storage unit/ counter space
Rear Bed With Wide Option
View our virtual 360 tour and check out the feature package Jura campervan layout right here on our 360 interactive tour.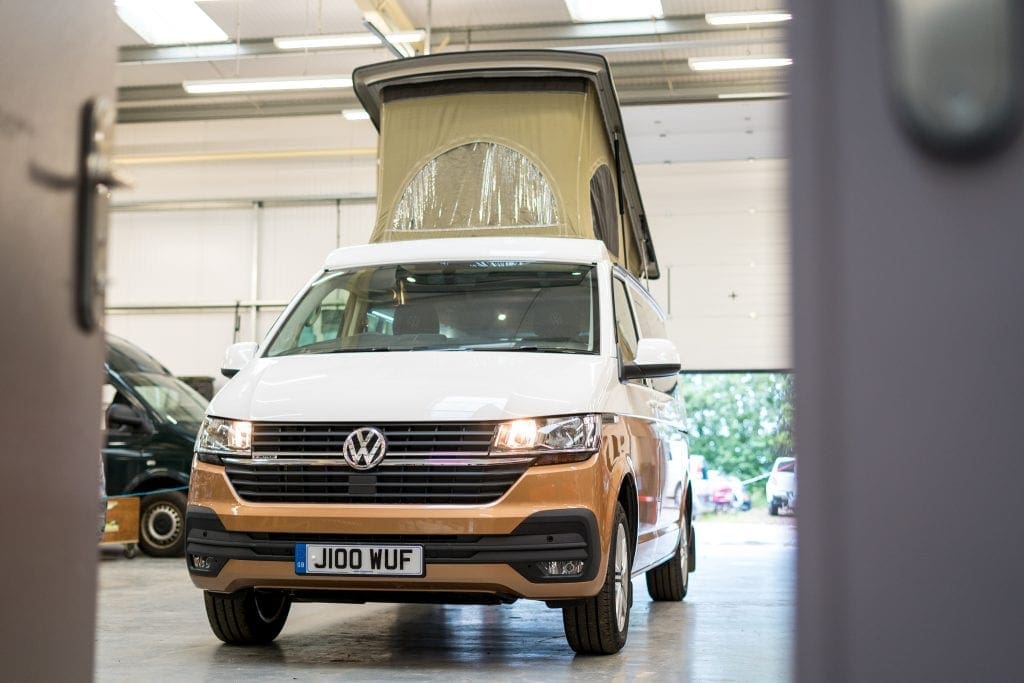 All our VW T6.1 campervan conversions are based on the Volkswagen Kombi or Window Van. Classified by the DVLA as Passenger vehicles, these vans are supplied to us by VW with factory fitted rear windows. 
Our standard pricing is based upon the 110 bhp T6.1 with manual gearbox and includes our standard campervan specification.
To see what's included as standard and what optional extras can be added to the base van then just click below
All our campervan conversions are based on the Volkswagen Transporter T6.1 Kombi or Window Van. Classified by the DVLA as Passenger vehicles, these vans are supplied to us by VW with factory fitted rear windows.
Our starting prices are based upon the 110 bhp VW T6.1 with manual gearbox and include all of the following Volkswagen factory fitted features at no extra cost;
VW Swivelling Front Seats – comfort seats with adjustable armrests and lumber support.

VW Leisure Battery & Charge System – 100% compatible with new smart alternators.

DAB Radio – with 5″ colour touchscreen.

Bluetooth Connectivity – connect your mobile phone through the DAB radio for safe hands free communication.

Multi Function Steering Wheel – control your phone, radio and cruise control direct from the safety of your steering wheel.

New Safety Features – including Cruise Control, Auto Post Collision Braking, Driver Alert, Crosswind Assist, Auto Emergency Calling and Emergency City Braking.
Volkswagen offer a wide range of optional extras on the VW T6.1– below is a list of just some of the choices that are available.
Volkswagen Optional Base Van Extras Include:
Engine & Transmission – 150 bhp Manual, 150 bhp DSG (auto), 4 Motion Manual 150bhp, 199bhp DSG (auto) & 4 Motion DSG (auto) 199 bhp
Metallic paint to body work, front & rear bumpers, door handles & mirrors
Rear window privacy glass
Rear view camera
Power latching on sliding door
Removable tow bar
Cab air conditioning
Heated driver & front passenger seats
Front & rear parking sensors
Thatcham category 1 alarm
Front & cornering fog lights
VW discover media satellite navigation system
Alloy wheels
All weather tyres
Download a Brochure & Price List that includes all the VW base van factory options for the T6.1
Van Colours To Choose From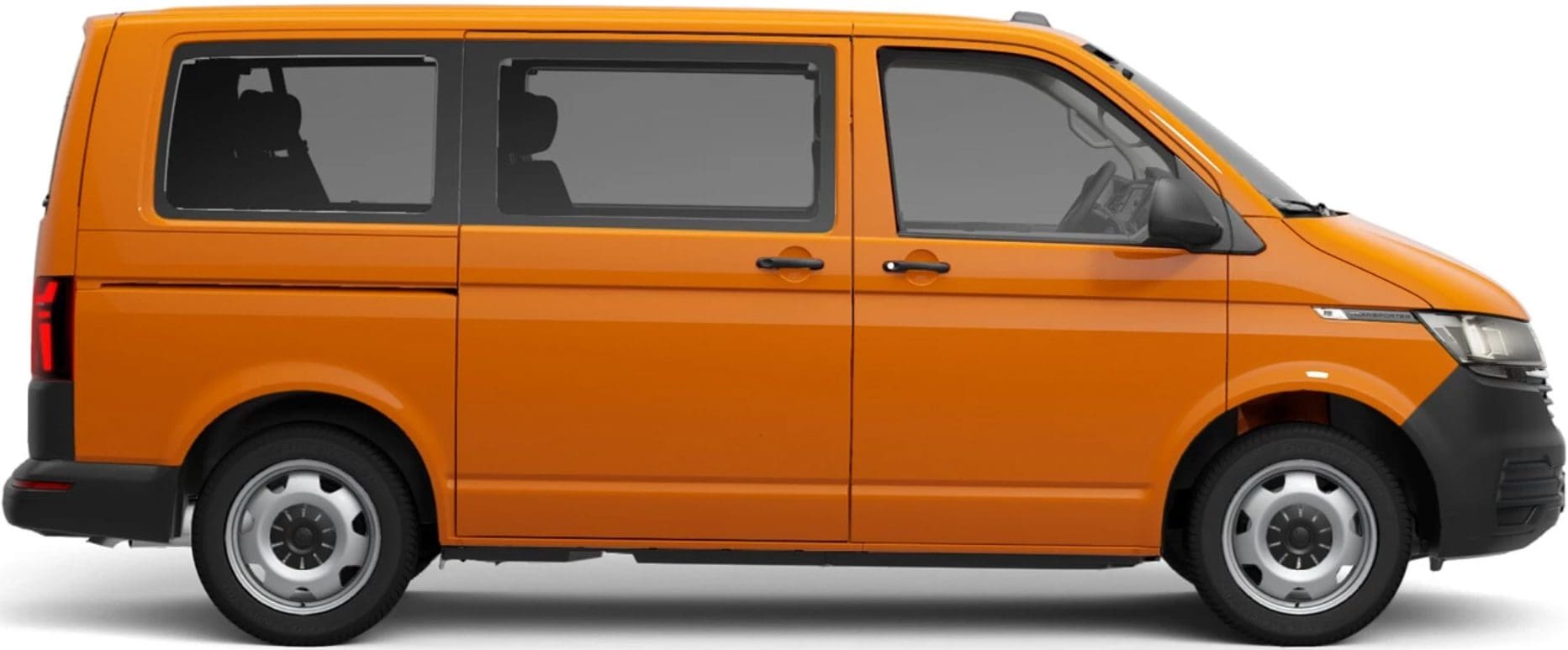 The VW Transporter T6.1 is available in two lengths;
Short Wheel Base – total length 4.9m
Long Wheel Base – total length 5.3m
The height of the van original low roof van straight from the VW factory is 1.99m, however, the fitting on our pop top elevating roof adds slightly to that giving a finished converted height for the Tiree, Cromarty, Sanna and Taransay of 2.0m.
Our Jura campervan is based entirely upon the factory fitted VW high top roof has a finished total height of 2.58m – this includes a Seitz roof vent at 0.1m which we add to the roof.
The width and ground clearance of both base vehicles is identical;
With mirrors folded – 1.91m
With mirrors out – 2.3m
Ground clearance – 0.2m
Payloads
It's always important to understand exactly how much you can carry in your campervan, as overloading your vehicle can be dangerous and is of course illegal. All vehicle manufacturers publish a variety of weights and payload information for their vehicles and they are usually described as follows:
Gross Vehicle Weight – the overall maximum weight the vehicle can be without a trailer.
Gross Train Weight – the overall maximum weight the vehicle can be including a trailer.
Unladen Weight – the weight of the manufactured standard vehicle without any options & extras and before it's converted into a campervan. This Unladen Weight figure includes the driver (assumed at 75kg) and a full tank of fuel, but no passengers.
Payload – the maximum weight that can be carried in the vehicle. Basically this is the Gross Vehicle Weight less the Unladen Weight.
With the VW Transporter each vehicle also has a separate number after the letter T which denotes its Gross Vehicle Weight – so a T30 has a maximum weight of 3000kg and a T32 a maximum weight of 3200kg.
How We Calculate Our Payloads
All our calculations are based upon our standard Tiree, Taransay, Cromarty, Sanna and Jura conversions and the overall weight of each of these is the total of the original Unladen Weight, published by Volkswagen, plus the extra weight that we add on when converting the van.
In addition to this extra conversion weight, it is required under European legislation, that when publishing payload figures we must also include the weight of the following items in our final sums – basically these are must haves for your campervan to be used for what it's been designed!
Full tank of fresh water – based upon 38 litres
Two full LPG Propane 3.9kg canisters
230v mains lead – 10 metres
Remember that any additional VW factory vehicle options you have chosen on your base van, as well as any other internal conversion options, will of course add to the overall weight and so reduce your overall payload, however, as an average passenger is around 75kg, then even with three or four passengers you will still have a considerable payload to take everything you'll need for your trips away!
To download our T6.1 payloads pdf, click here – it covers the weights of differing engines, wheel bases and heights.
We are proud to be a 100% Employee Owned Business
Full Type Approval safety crash testing for all our campervan conversions
Volkswagen Motorhome Qualified Converter for the VW Transporter T6.1
All our VW T6.1 campervan conversions are fully NCC Approved
Good Business Charter

accredited business

Furniture built in house – so we can make layout adjustments to suit you
Full accreditation for ISO9001 international quality standard
Our workshop is always fully open to visitors
All of our new T6.1 campervan conversions are fully classified by the DVLA as a motorcaravan