A fully sealed steel gas box, top grade electrical parts and individually tested certification from qualified gas and electrical engineers are standard in all our T6.1 conversions.
Gas – all our conversions are fitted as standard with a fully welded and sealed steel locker designed specifically to fit either two Calor 3.9kg propane or two Camping Gaz 907 butane cylinders – keeping a full cylinder safely stored at the rear of the locker will mean you should never run out. However, if you wanted to avoid any LPG gas in your campervan then the diesel fired Wallas hob/heater is of course an option.
As an added safety feature, we place the gas locker in the van boot so it's impossible to close the vehicle tailgate without having first shut and secured the gas locker door – whenever you're in the vehicle you'll know the locker is safely sealed tight. It's also simple to access to change the cylinder over. You don't have to reach down into the depths of a cupboard, as you can simply place the cylinder on the ground by the tailgate to connect and/or disconnect.
Giving you the option of fitting either propane or butane cylinders covers every eventuality. In sub zero temperatures, butane will burn poorly so propane is a better option. If you're travelling to Europe then Camping Gaz butane cylinders are easy to find whilst the Calor propane are not – we stock a simple adapter that enables to quickly switch from one type of cylinder to the other.
The gas locker also houses the compulsory gas regulator, has a completely sealed door and is vented through the floor of the vehicle – ensuring no gas leak from the bottle will ever make its way into the living area of the vehicle. All LPG parts and appliances in our conversions are installed, tested and certificated by an LPG qualified engineer.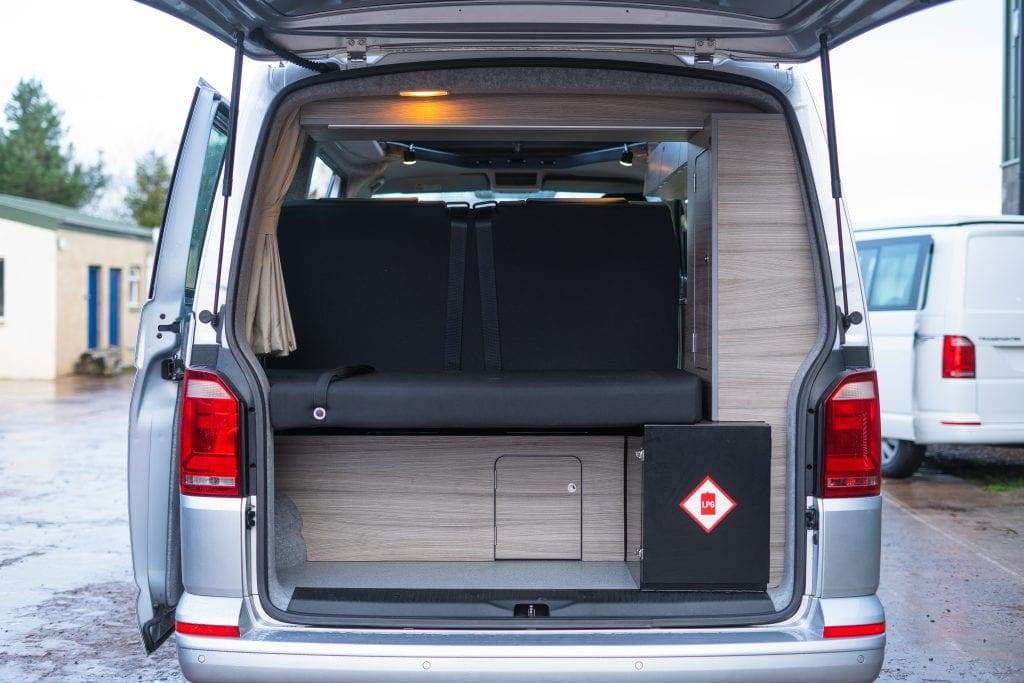 12v & 230v Electrics – to ensure that you have a reliable 12 volt supply all our base T6.1 vans direct from Volkswagen with their factory fitted leisure battery and charge relay system installed.
All T6.1 vans are now made as standard by VW with features to improve fuel economy and reduce polluting emissions, with features such as engine brake recuperation and smart alternators – the former allowing the vehicle alternator to recharge the 12v battery system on braking as well as whilst accelerating and the latter charging in spikes rather than continuously, both reducing resistance on the engine and improving your fuel consumption. The mechanics behind this technology very closely monitors the charge of the vehicle battery and cuts off alternator current if that battery is sufficiently charged, the downside is that if you have a leisure battery installed after the factory build then it can also cut the charge to that system as well. However, where VW install their own leisure battery system as a factory fit this problem is overcome as VW will programme the vehicle ECU (Electronic Control Unit) to ensure both batteries always receive the charge they need.
The standard VW leisure battery is a 75 amp hour AGM (Absorbed Glass Mat) battery under the brand name of Varta and made by German firm Johnson. In any conversion where we add a diesel fired heating systems we add an identical VW Varta 75 amp hr AGM battery to double up your power to 150 amp hrs – this gives an identical arrangement as you would find in a VW California.
To free up more storage in your campervan we always locate the additional 75 amp hr battery in a rigid stainless steel cage within a space on the underside of the van. By removing four bolts the cage can be simply lowered down, but as a sealed battery it is maintenance free.
For the 12 volt and 230 volt power system we always install the high grade Sargent EC328 units. With fully integrated 12 volt and 230 volt consumer units (fuse boxes) and high quality charge relay system, life for you is as simple as it could be. A digital control panel will give you a range of information including leisure and vehicle battery charge, ampage draw, water tank level, outside/inside temperature and alarm set features.
All our 230v fittings in every campervan are individually tested and certificated by a qualified electrical engineer.