When your VW T6 arrives at Jerba Campervans we carefully strip the van interior at the back to create a bare shell. We then proceed to cut off the roof and install the strengthening frame. Once the new frame is in place we insulate and line with carpet and fit all internal wiring looms for speakers and lights. Our Jerba elevating roof is then put on. Your van will then move to the electric and plumbing technicians where the leisure battery, Wallas hob, Webasto heating, speakers are all fitted along with the underside water tank with sensors.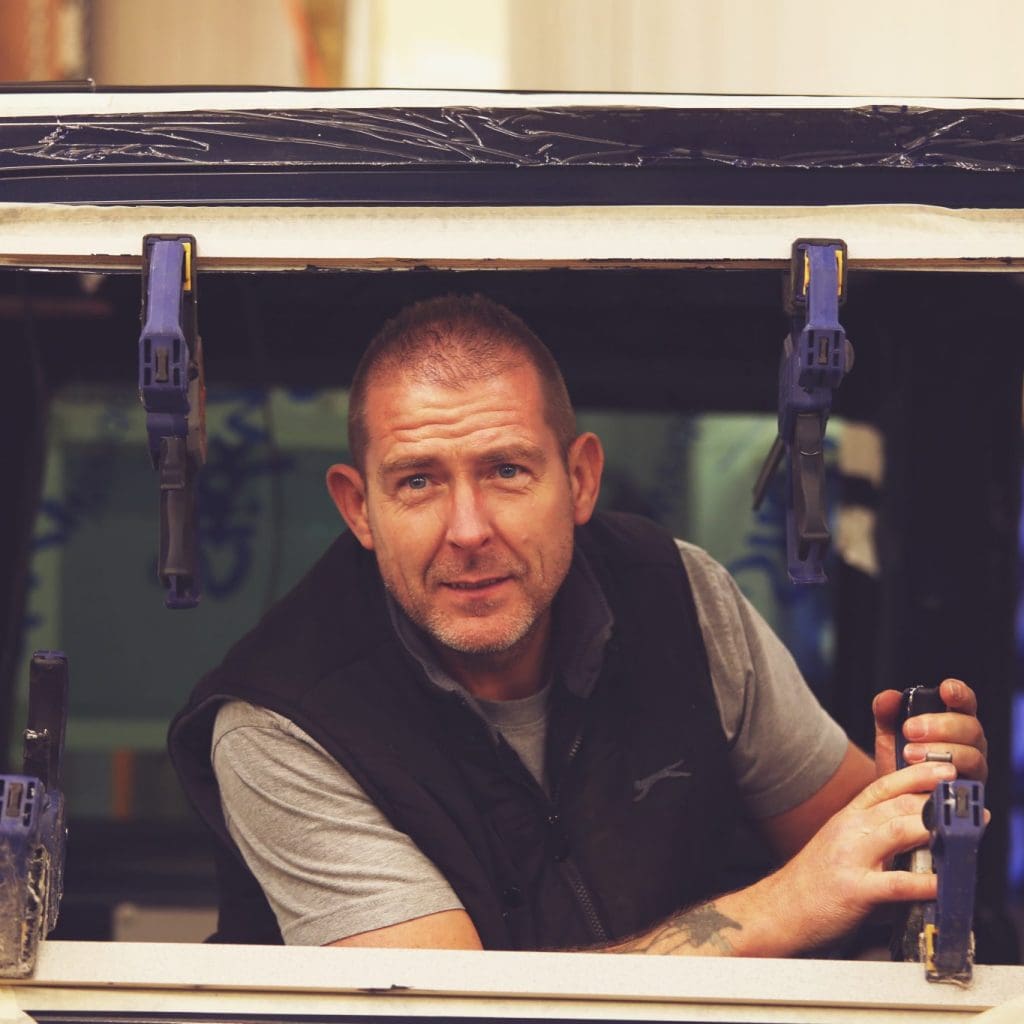 Your vans first stop will be with Vince our schedule supervisor. Your van will be stripped and the roof will be removed and refitted with our Jerba Elevating Roof. Vince's previous experience in management for large food and drink brands has given him the patience to teach apprentice conversion fitters. This ensures that Jerba Campervans can continue to grow and still maintain its high level of quality. We predict that Vince will be the next Jerba employee with a campervan.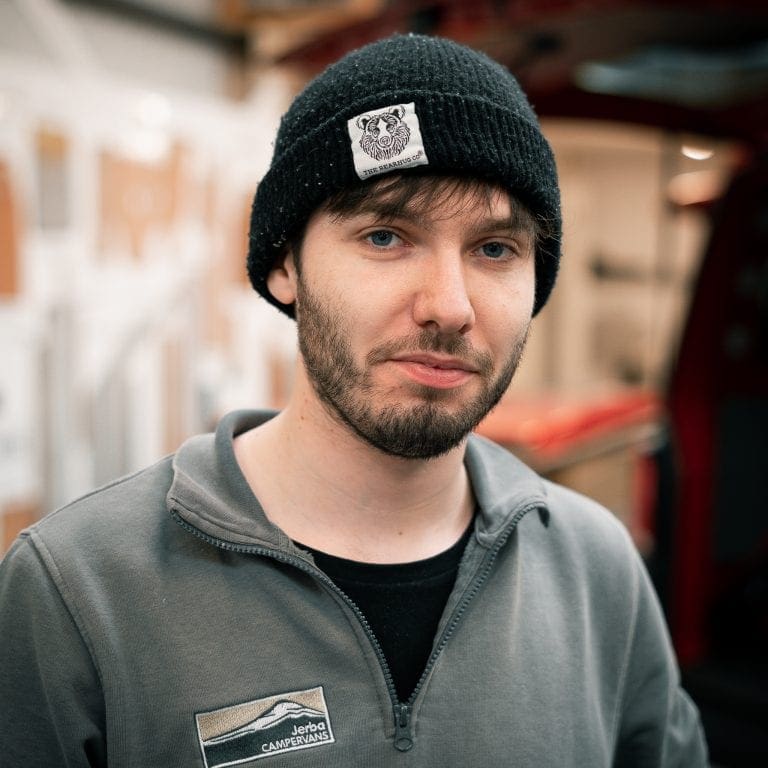 Gareth is the newest member of the team here at Jerba. Having spent 9 years working as a chef he decided it was time to try something new and set his course for Jerba Campervans. Gareth is a Conversion Specialist and will be working along side supervisor Vince to learn the ropes and settle in to a his new role here at Jerba.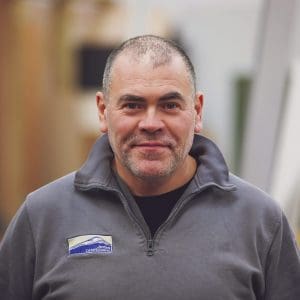 John has been with us for 12 years starting shortly after the business was started in 2006. His indisputable knowledge and skill coupled with his approachable nature makes him an excellent conversion specialist. John oversees all that goes into the underside of your new van to ensure that all of our Jerba campervans are of the highest quality and safety.
After your VW T6 has been prepped by the conversion specialists it is then moved onto the finishing carpenters. This is where all the furniture is made and then fitted into the van by our experienced master craftsmen. Our finishing carpenters pride themselves on their excellent craftsmanship and their high quality finish.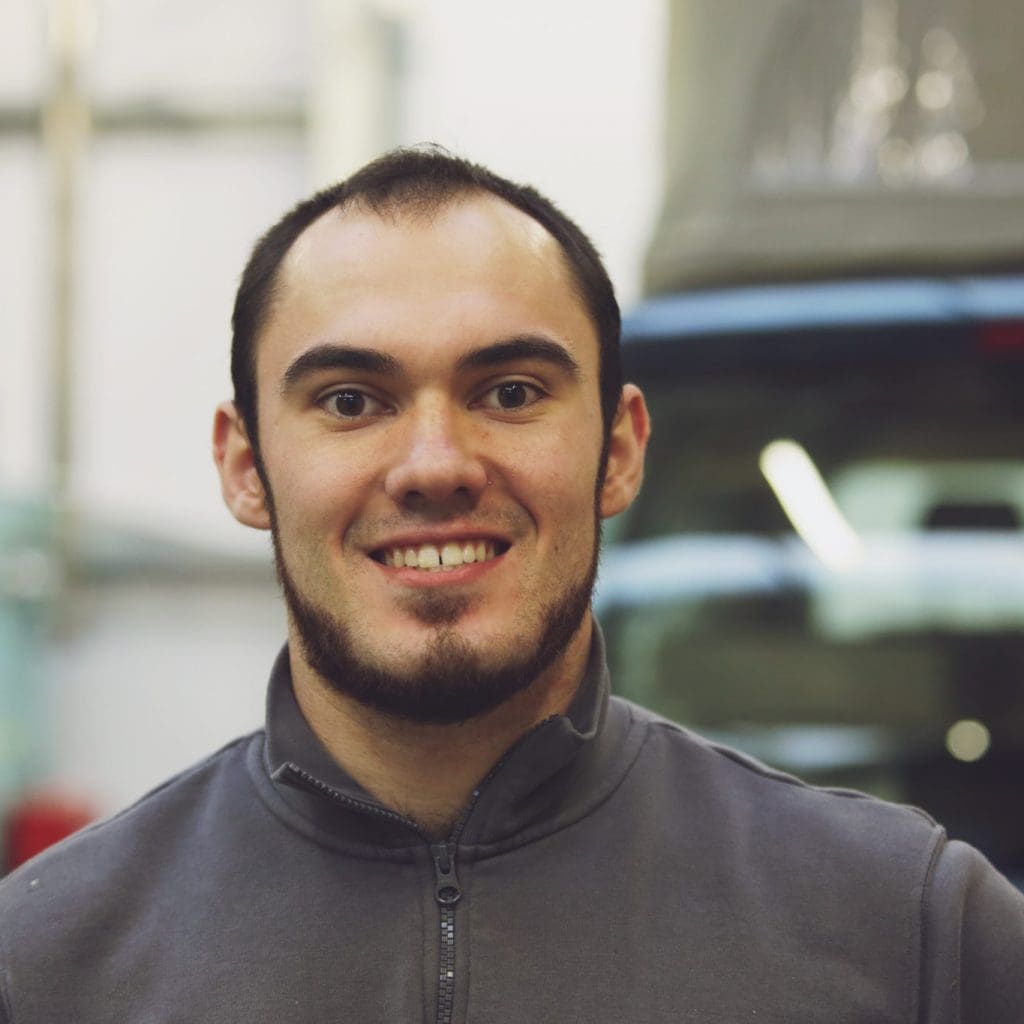 Nathan recently joined us as an apprentice and is doing the same wood machinist apprenticeship as David has done. Nathan is a fast learner not only improving his furniture making skills but also learning all of the skills of a conversion fitter. In his short time here Nathan has made a big difference on our production levels.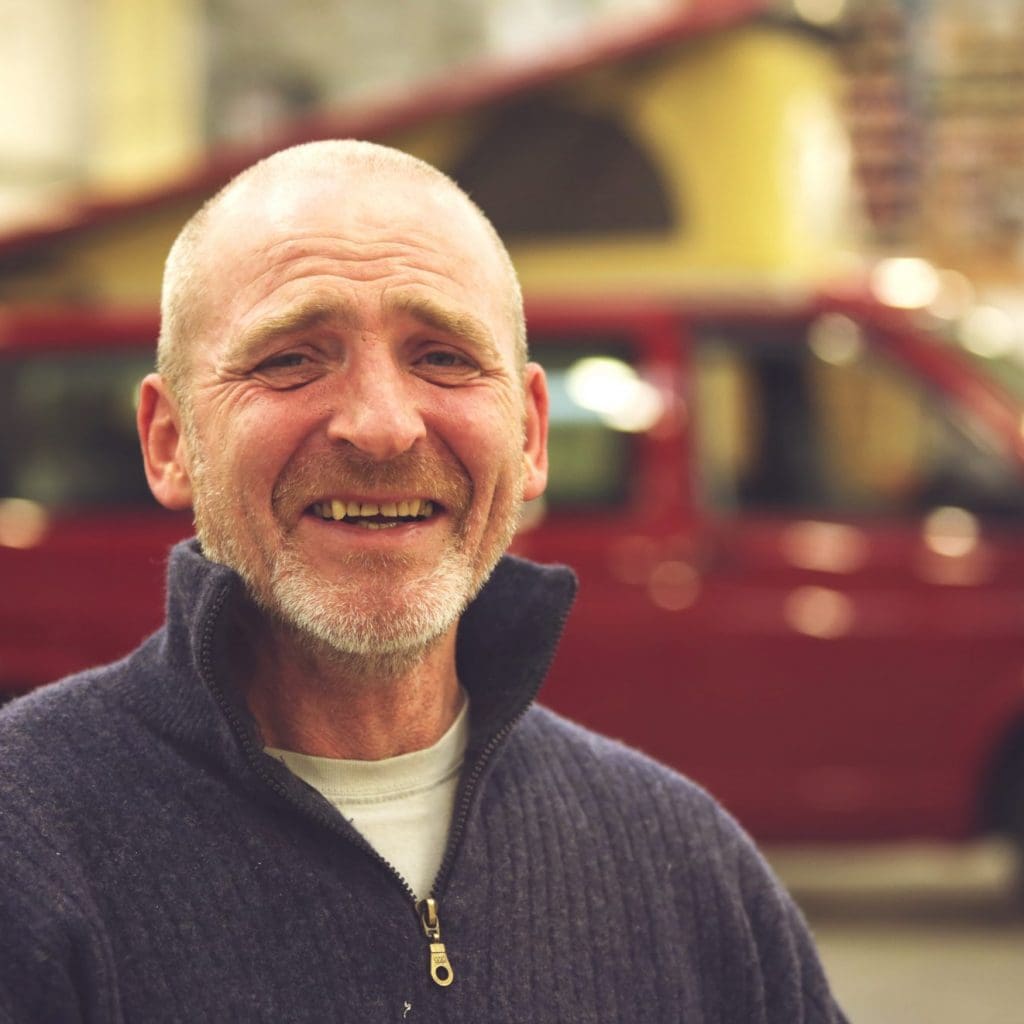 Ian has always worked with wood having previously been a furniture maker he is now a master craftsman here at Jerba. Ian's love of performing arts and creativity can be seen in his innovative designs, and also keeps the workshop laughing. Ian has now succumbed to the campervan lifestyle with him now owning his own VW campervan.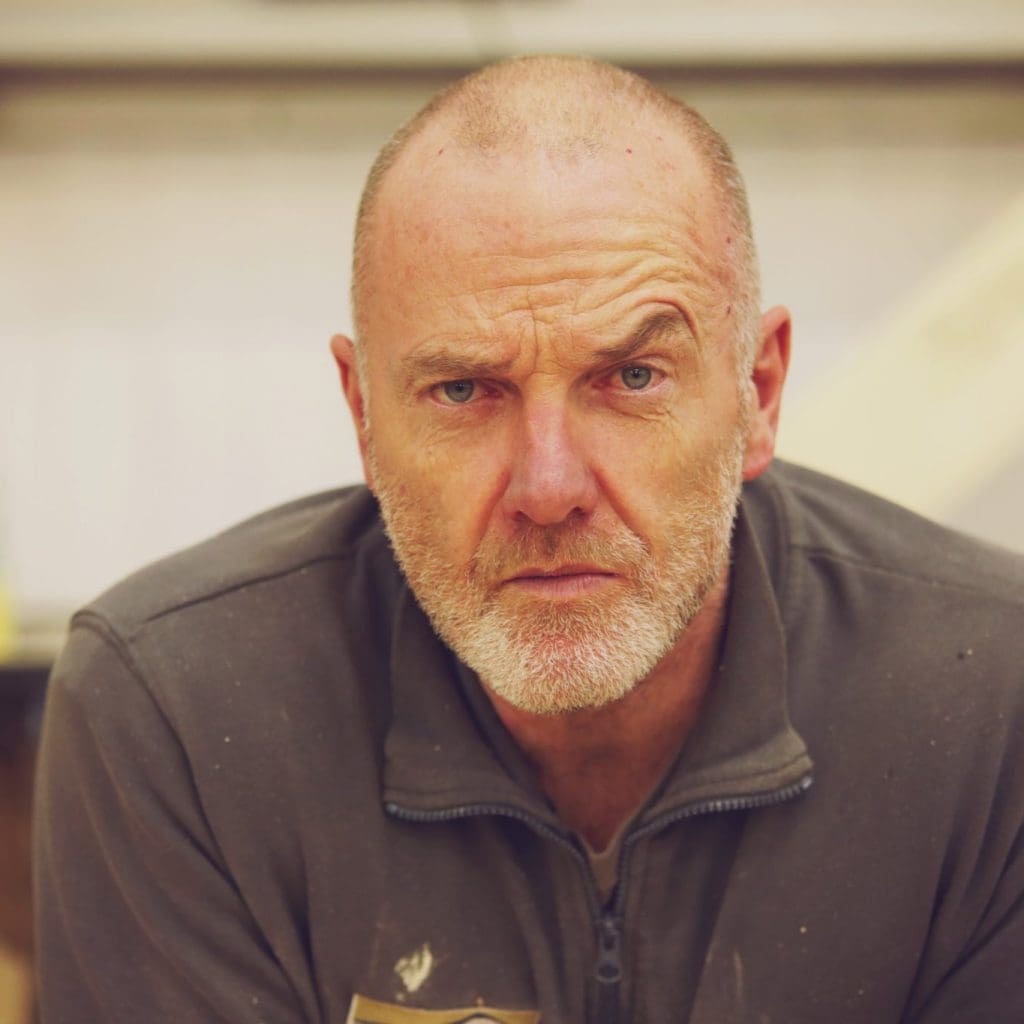 Mark has worked as a master craftsman here at Jerba for 8 years. This experience coupled with his love of outdoor sports ensures that he understands our customers lifestyle. This also ensures that all our furniture is made to a high quality and that no shortcuts are taken.
Our customer facing team are here to give you the very best customer experience. From your first enquiry to waving you off on your first adventure in your new Jerba Campervan, we pride ourselves on our excellent customer service. Our focus on customer support does not end after you collect your van, our inspiring blog articles help to inspire and improve your next adventure while our video tutorials quickly answer any future questions you may have.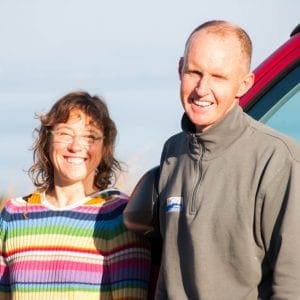 Simon and Cath are the founders of Jerba Campervans and formed the company in 2006 having spent many years enjoying a second hand VW T4 camper of their own – Simon decided he could improve on the design, so bought his own empty VW T5 to convert and the Jerba story began! Simon is the company MD and plays an active role in all parts of the business, Cath is the Company Secretary but also doubles up as a part time seamstress!
After working at the VW van centre Edinburgh for 11 years Dave joined us at Jerba in 2016. Dave takes you through all the stages of your new dream campervan; from helping you pick the small details that make a difference to waving you off on your first adventure. Dave's attentive nature and campervan knowledge means he is always ready to help and even send you regular photo updates of your van.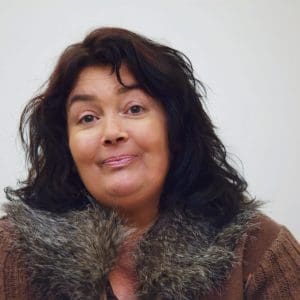 Jill - Business Administrator

Jill is the friendly voice on the end of the phone and can help you with any of your enquiries. Jill's impeccable organisation means that you can effortlessly book your next adventure in a Jerba rental van with the assurance that everything will go to plan.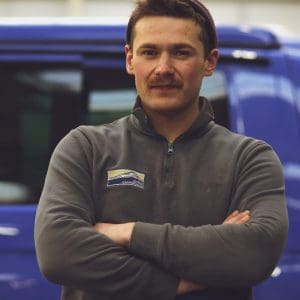 Steven - Digital Marketing Specialist
Steven previously worked in the workshop for 3 years and was an excellent conversion fitter. However, in recent months his creative talents and vision could no longer be overlooked, having previously won awards for his outstanding photography. This has led to Steven being a creative specialist working behind the camera on all our videography and photography. Steven's talents have helped Jerba Campervans to portray the high level of quality of our vans onto our website and social media.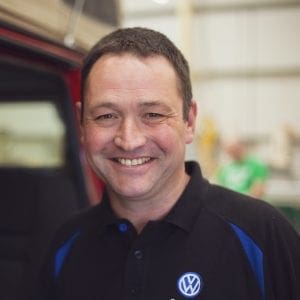 Alan - Operations Manager
Alan joined the team in November 2018 and brings with him a vast amount of experience from Volkswagen. Working for over 10 years at the Edinburgh VW Van Centre, Alan is a fully qualified VW Master Technician and very few other people have his in depth technical knowledge of the VW Transporter van. Alan is focusing on driving forward company productivity and training – working closely with all fellow employees to ensure best practice leads to the best quality end product.