As a 100% Employee Owned company we pride ourselves in having a team of dedicated and passionate individuals who work together to build every campervan as if it's their very own.
Our employees are fully involved in all parts of the business and they all partake in working groups that meet regularly to look at product and systems improvements, new innovations and improving the workplace environment.
Every member of team is as valued cog in a bigger process and aim to ensure that they produce the best product with the best customer service from the best working conditions.
All our employees have a different story to tell – but one thing that many have in common is their own Jerba camper that they've built after hours!!!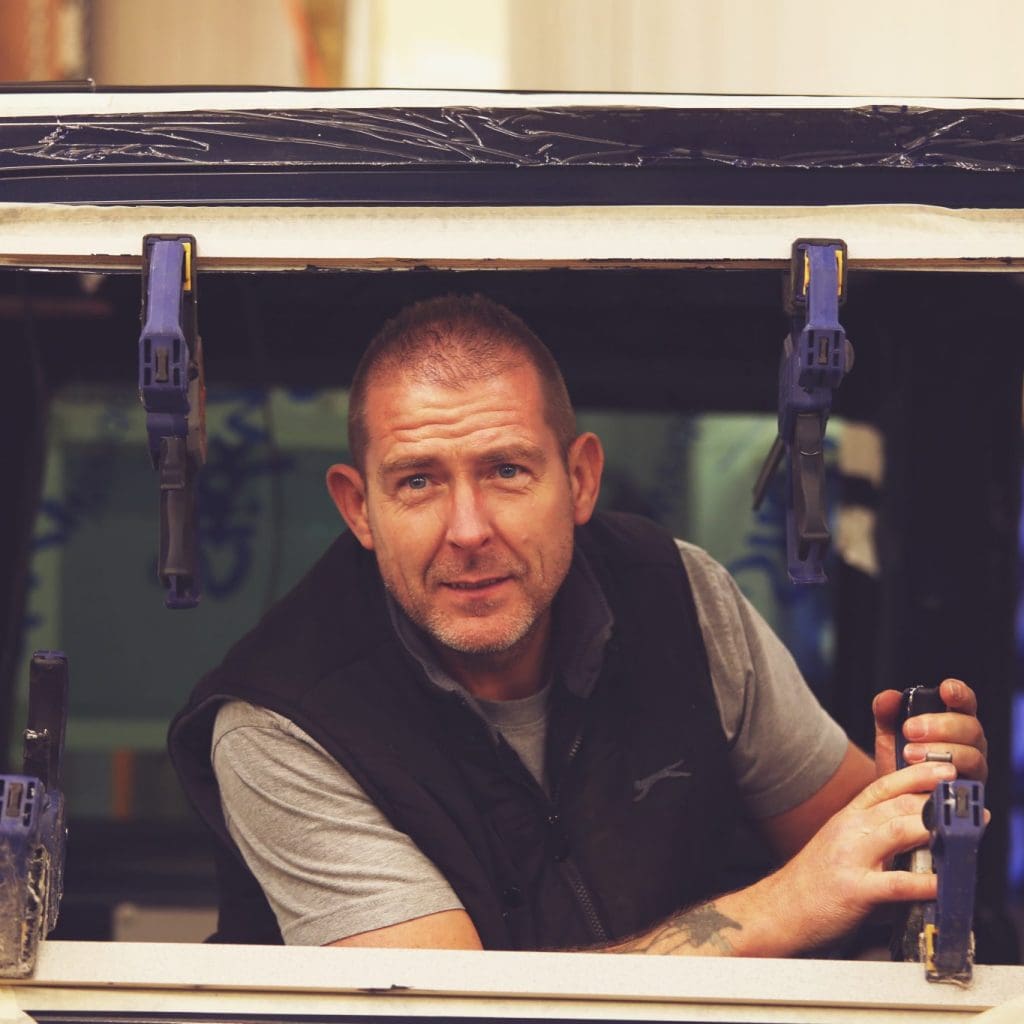 Your van's first stop will be with Vince our schedule supervisor. Vince's previous experience in management for large food and drink brands has given him the patience to teach our apprentice conversion fitters. This ensures that Jerba Campervans' can continue to grow and still maintain its high level of quality. We predict that Vince will be the next Jerba employee with a campervan. 2022 update, we predicted right!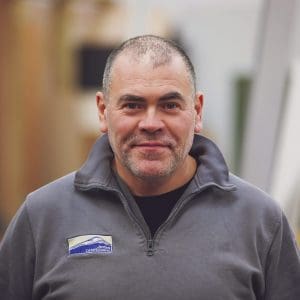 John has been with us for 16 years starting shortly after the business was started in 2006. His indisputable knowledge and skill coupled with his approachable nature makes him an excellent conversion specialist. John oversees all that goes into the underside of your new van to ensure that all of our Jerba campervans are of the highest quality and safety.
Jake is our latest schedule apprentice. He's always had a passion for cars, and he's excited to learn the skills he'll need for working on his own car one day. Jake likes mountain biking at the weekends and is working towards getting his own motorbike so he can avoid the occasional 1 hour cycle home when there's no one available to give him a lift!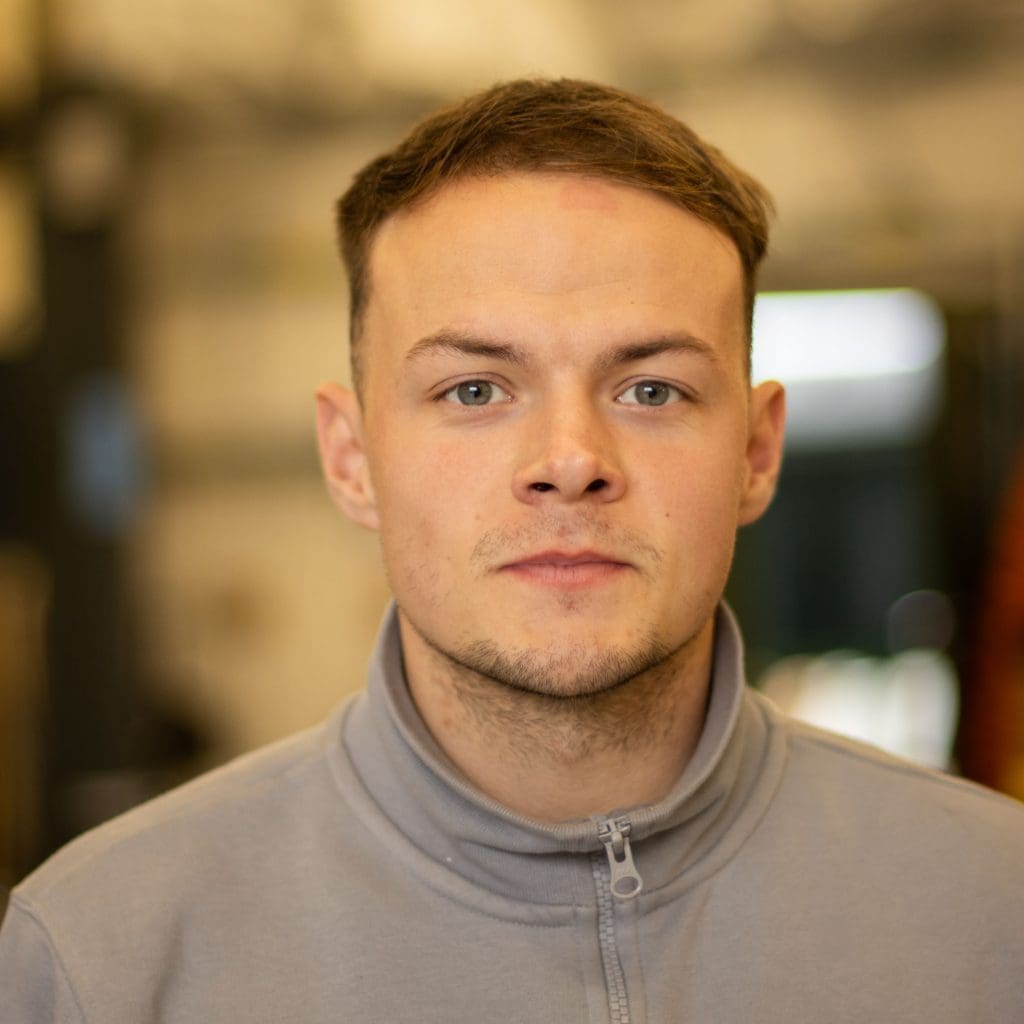 Russel is our newest apprentice in the Electrical department, quickly learning the ropes to take over the wiring from our existing electrician.
In his spare time Russel enjoys playing and watching football.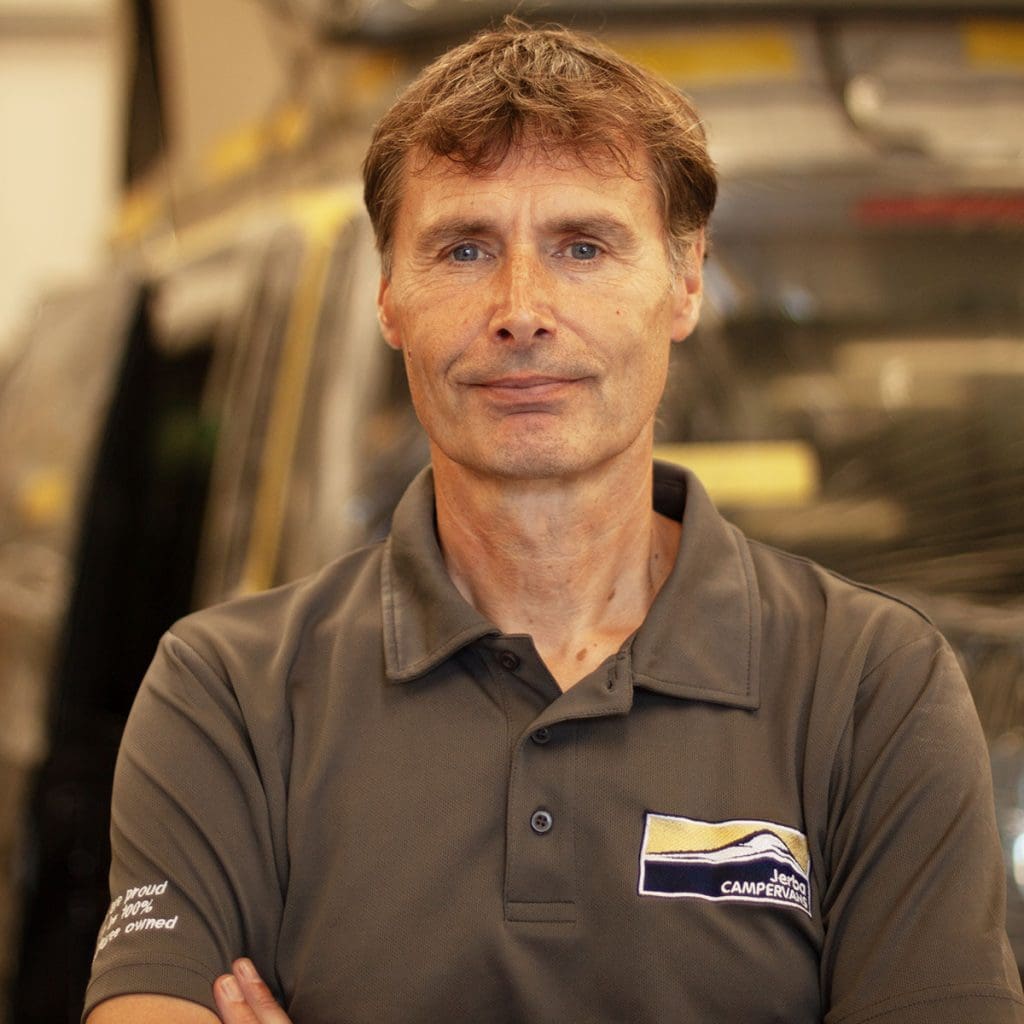 Andy is with us just one or two days a week to look after stock and the rentals. Chances are if you're going away in one of our vans – Andy will show you round!
 He is definitely keen to get a van for himself sometime soon as well!
Sheena Is our part time Seamstress at Jerba. Our vans all have unique curtains with a huge selection, Sheena puts it all together in the end. 
While not making curtains Sheena is working on new ideas from seat covers to shower tents!
After your VW T6/ T6.1 has been prepped by the conversion specialists it is then moved onto the finishing carpenters. This is where all the furniture is made and then fitted into the van by our experienced master craftsmen. Our finishing carpenters pride themselves on their excellent craftsmanship and their high quality finish.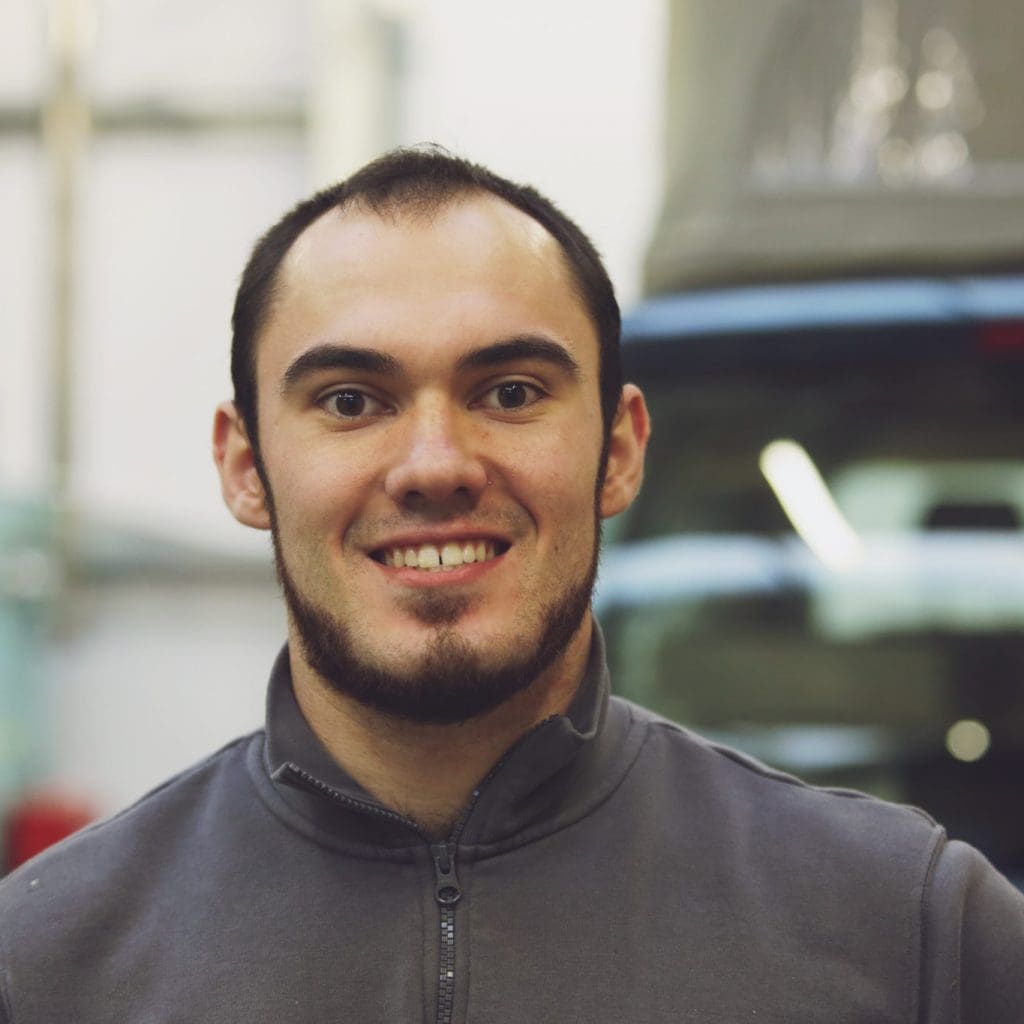 Nathan recently completed his wood machinist apprentice and is now a fully qualified and celebrated finishing carpenter here at Jerba. Nathan is a fast learner not only improving his furniture making skills but also learning all of the skills of a conversion fitter. In his time here Nathan has made a big difference on our production levels.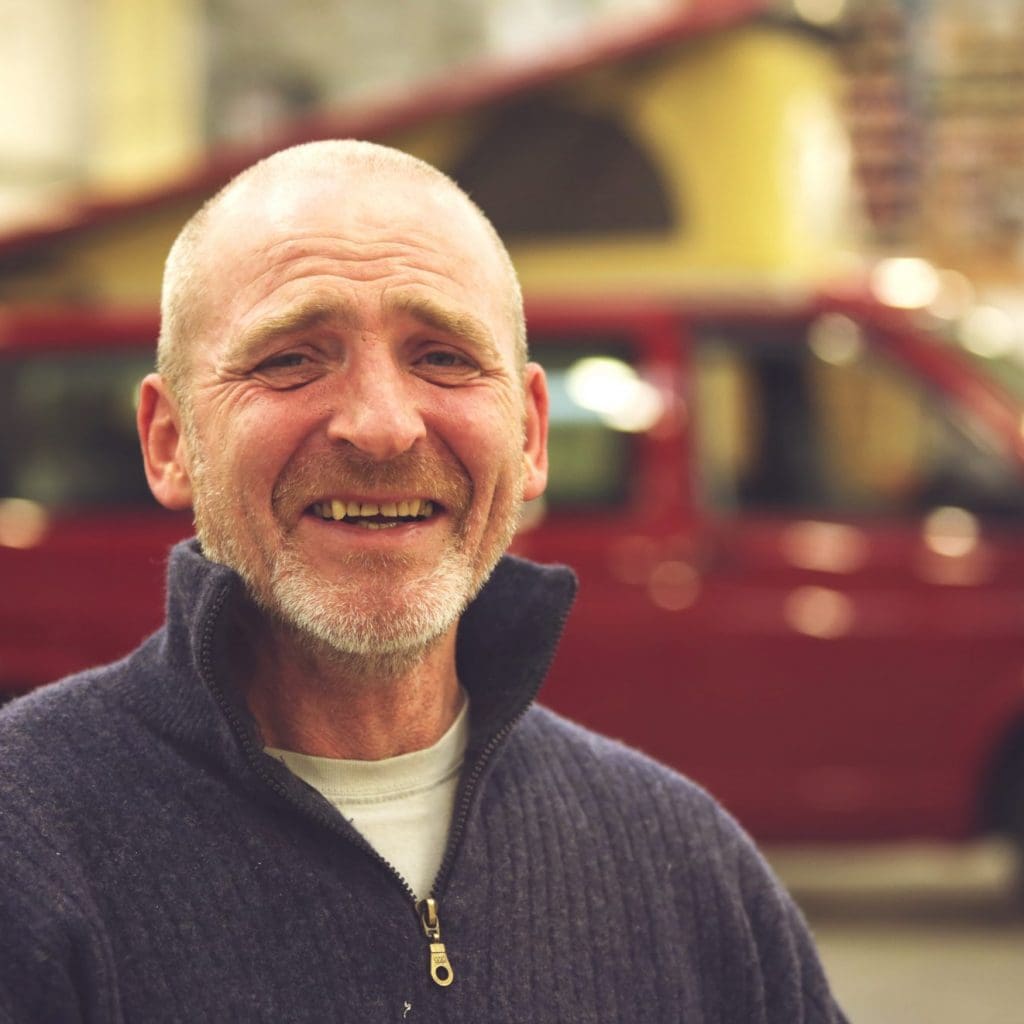 Ian has always worked with wood having previously been a furniture maker he is now a master craftsman here at Jerba. Ian's love of performing arts and creativity can be seen in his innovative designs, and he also keeps the workshop laughing. Ian has now succumbed to the campervan lifestyle with him now owning his own VW campervan.
Calum is our latest carpentry apprentice. He's always had a passion for VW's, and it's no wonder when his father is our operations director Alan. Calum likes anything with an engine and is often found out on the trails competing all over the country on his motorbike. Keep a lookout on our social media for Calums DIY wood projects, you'll be impressed!
Our customer facing team are here to give you the very best customer experience. From your first enquiry to waving you off on your first adventure in your new Jerba Campervan, we pride ourselves on our excellent customer service. Our focus on customer support does not end after you collect your van, our inspiring blog articles help to inspire and improve your next adventure while our video tutorials quickly answer any future questions you may have.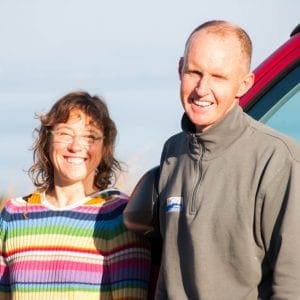 Simon and Cath founded the business in 2006 after deciding they could improve existing campervan designs. So they converted a van in their garage and the Jerba story began. 
After the company went 100% Employee Owned in 2018 Simon remained involved in the business as the Managing Director of the company
Alan - Operations Director
Alan joined the team in November 2018 and brings with him a vast amount of experience from Volkswagen. Working for over 10 years at the Edinburgh VW Van Centre, Alan is a fully qualified VW Master Technician and very few other people have his in depth technical knowledge of the VW Transporter van. Alan is focusing on driving forward company productivity and training – working closely with all fellow employees to ensure best practice leads to the best quality end product.
Dave - Customer Support Manager
After working at the VW van centre Edinburgh for 11 years Dave joined us at Jerba in 2016. Dave takes you through all the stages of your new dream campervan; from helping you pick the small details that make a difference to waving you off on your first adventure. Dave's attentive nature and campervan knowledge means he is always ready to help and even send you regular photo updates of your van.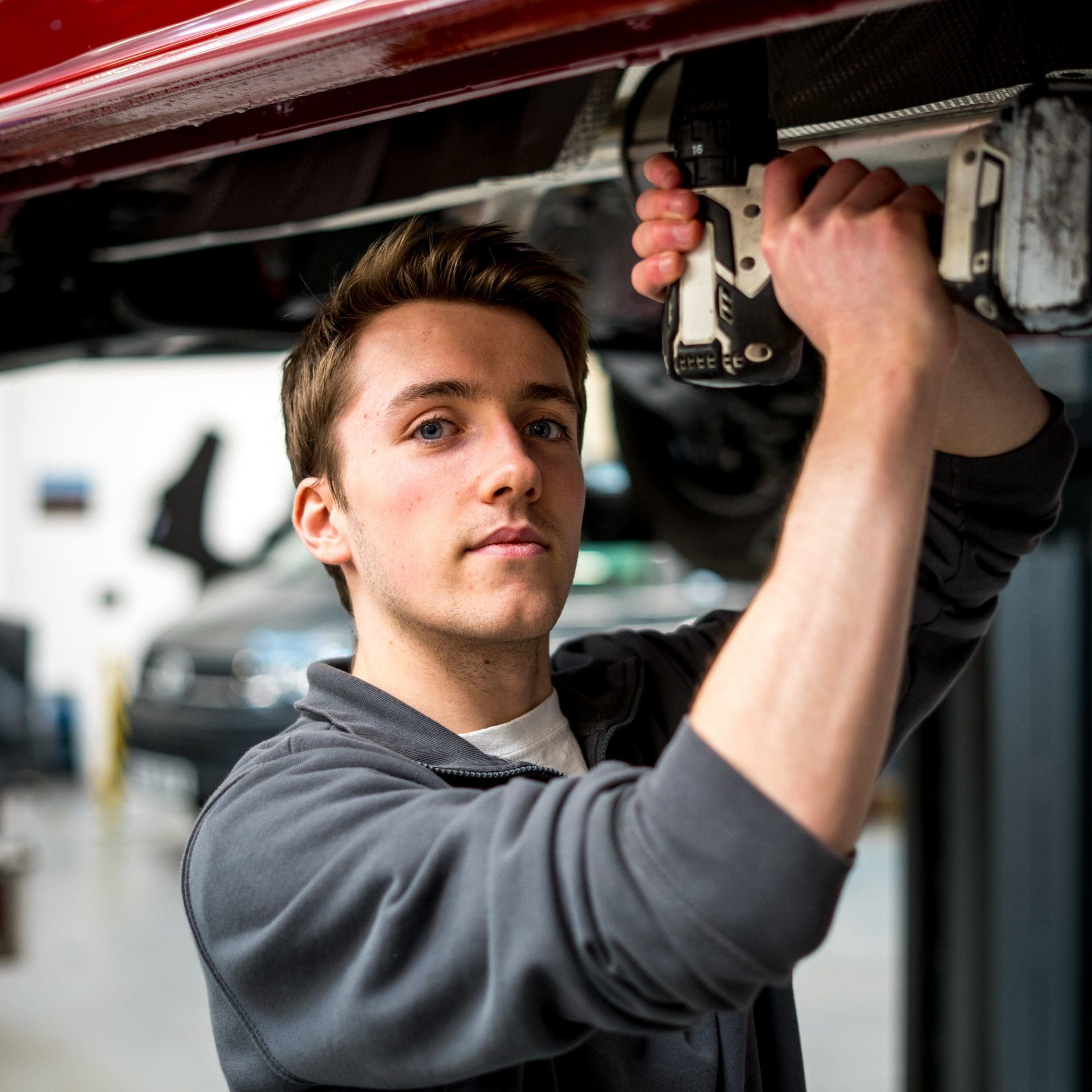 Rob - Customer Service Manager

Rob joined the team in October 2020 as our electrician, however recently he has made the move to the office, learning from Dave to take over the role of Customer Services Manager.
Currently Rob Is working in the office and the workshop, training the new electrical apprentice Russel.
In his spare time Rob enjoys various sports and time away in our rental campervan if he can get one!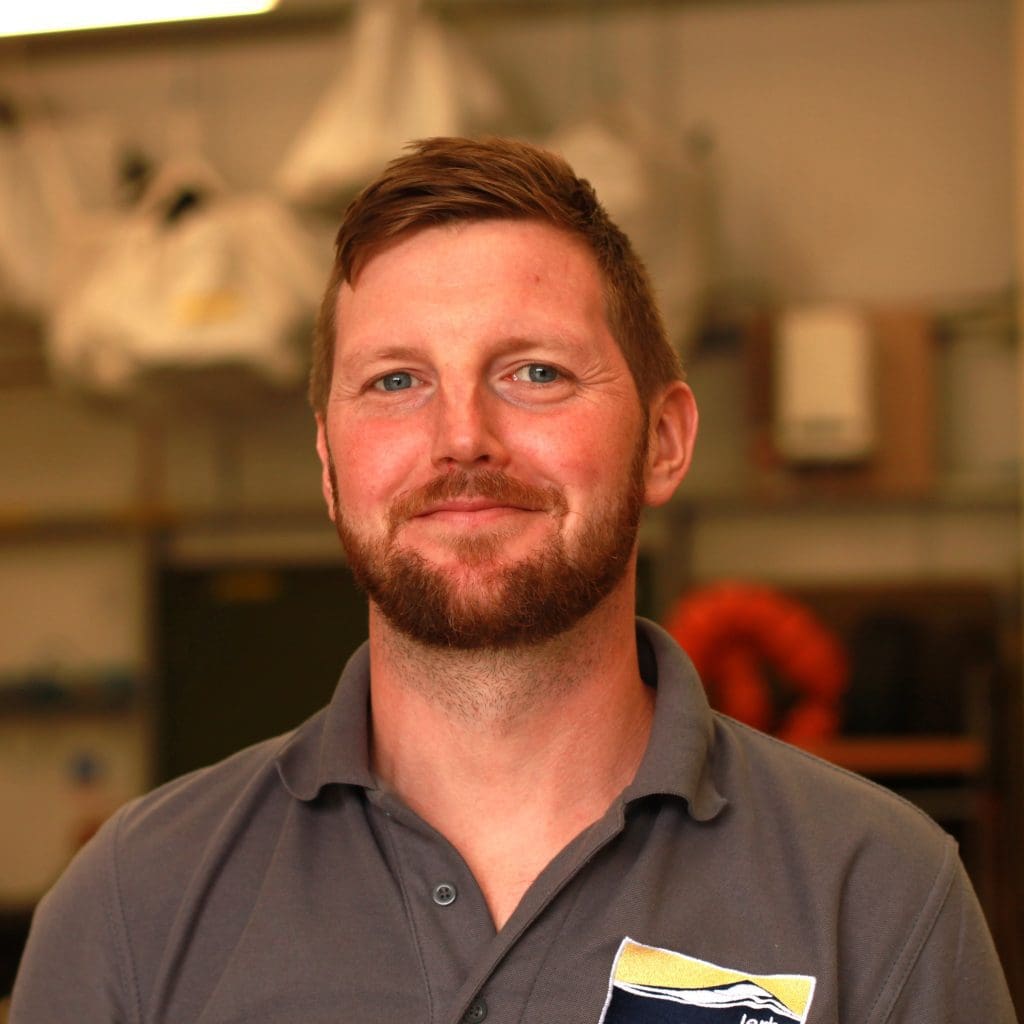 Owen - Business Development Manager
In June 2023 we welcomed Owen into the team at Jerba campervans. With extensive experience in marketing, sales and business diversification, he brings valuable enthusiasm and innovation to our team. Originally from the Orkney Islands, Owens background varies from supporting his families sheep farming enterprise to his online presence and successful estate agency business.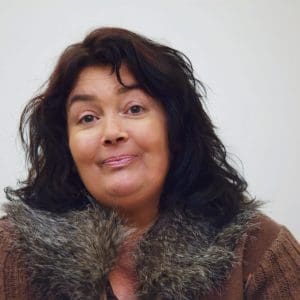 Jill - Business Administrator
Jill is the friendly voice on the end of the phone and can help you with any of your enquiries. Jill's impeccable organisation means that you can effortlessly book your next adventure in a Jerba rental van with the assurance that everything will go to plan.