Meet The Team: The Workshop Craftsmen
When your VW T6 arrives at Jerba Campervans we carefully strip the van interior at the back to create a bare shell. We then proceed to cut off the roof and install the strengthening frame. Once the new frame is in place we insulate and line with carpet and fit all internal wiring looms for speakers and lights.  Our Jerba elevating roof is then put on. Your van will then move to the electric and plumbing technicians where the leisure battery, Wallas hob, Webasto heating, speakers are all fitted along with the underside water tank with sensors.
Vince
Your vans first stop will be with Vince our schedule supervisor. Your van will be stripped and the roof will be removed and refitted with our Jerba Elevating Roof. Vince's previous experience in management for large food and drink brands has given him the patience to teach apprentice conversion fitters. This ensures that Jerba Campervans can continue to grow and still maintain its high level of quality. We predict that Vince will be the next Jerba employee with a campervan.
Jack
Jack recently joined Jerba Campervans and works on all the first stages of your conversion. He is a fast learner and has grasped the skills needed to be a great conversion fitter almost immediately. Jack's interest in campervan conversion was sparked by his talent in car modification, having modified all of his previous vehicles
Luke
Luke works hard to ensure that all of the underside parts of your conversion work seamlessly. Luke makes sure that your leisure battery functions correctly to provide you with the most comfortable campervanning trip possible. Luke's determination and work ethic could be seen in his recent Total Warrior attempt with him coming first out of our Jerba team.
Lewis
Lewis joined the team 3 years ago and you will often find him working on the underside of your campervan. Lewis ensures that your van will have all the home comforts you need from heating to speakers. Lewis's previous job as a locksmith has given him an enviable eye for detail.
Finishing Carpenters
After your VW T6 has been prepped by the conversion specialists it is then moved onto the finishing carpenters. This is where all the furniture is made and then fitted into the van by our experienced master craftsmen. Our finishing carpenters pride themselves on their excellent craftsmanship and their high quality finish.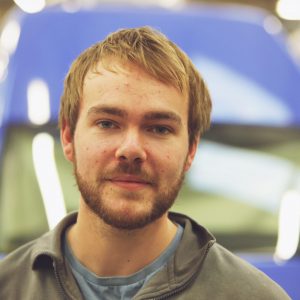 David
Dave joined us 7 years ago and this was his first job after leaving school. He started working as a conversion fitter and then done his apprenticeship to become a wood machinist and master craftsman here at Jerba. Dave also couldn't resist the campervan lifestyle and has recently bought and converted his own VW campervan.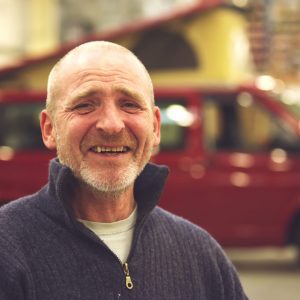 Ian
Ian has always worked in wood work having previously been a furniture maker he is now a master craftsman here at Jerba. Ian's love of performing arts and creativity can be seen in his innovative designs, and also keeps the workshop laughing. Ian has now succumbed to the campervan lifestyle with him now owning his own VW campervan.
Mark
Mark has worked as a master craftsman here at Jerba for 8 years. This experience coupled with his love of outdoor sports ensures that he understands our customers lifestyle. This also ensures that all our furniture is made to a high quality and that no shortcuts are taken.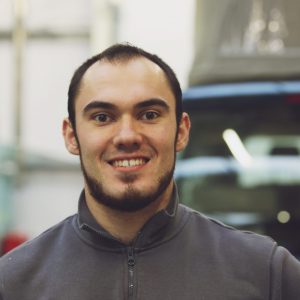 Nathan
Nathan recently joined us as an apprentice and is doing the same wood machinist apprenticeship as David has done. Nathan is a fast learner not only improving his furniture making skills but also learning all of the skills of a conversion fitter. In his short time here Nathan has made a big difference on our production levels.