The moment I climb into Sula my campervan on the drive I feel I'm on holiday.
After more than 20 years of vague thoughts about a campervan Ian and I took the plunge and decided to order a brand new VW T5 Sanna conversion from Jerba. This followed very rapidly from two successful hire holidays with Jerba – we were smitten as soon as we drove out from the old workshop. Sadly Ian didn't live to meet Sula, but she's his legacy to me, and a fantastic way to travel as a solo female.
The name is for Sula Bheinn or Suilven, one of my favourite Scottish mountains.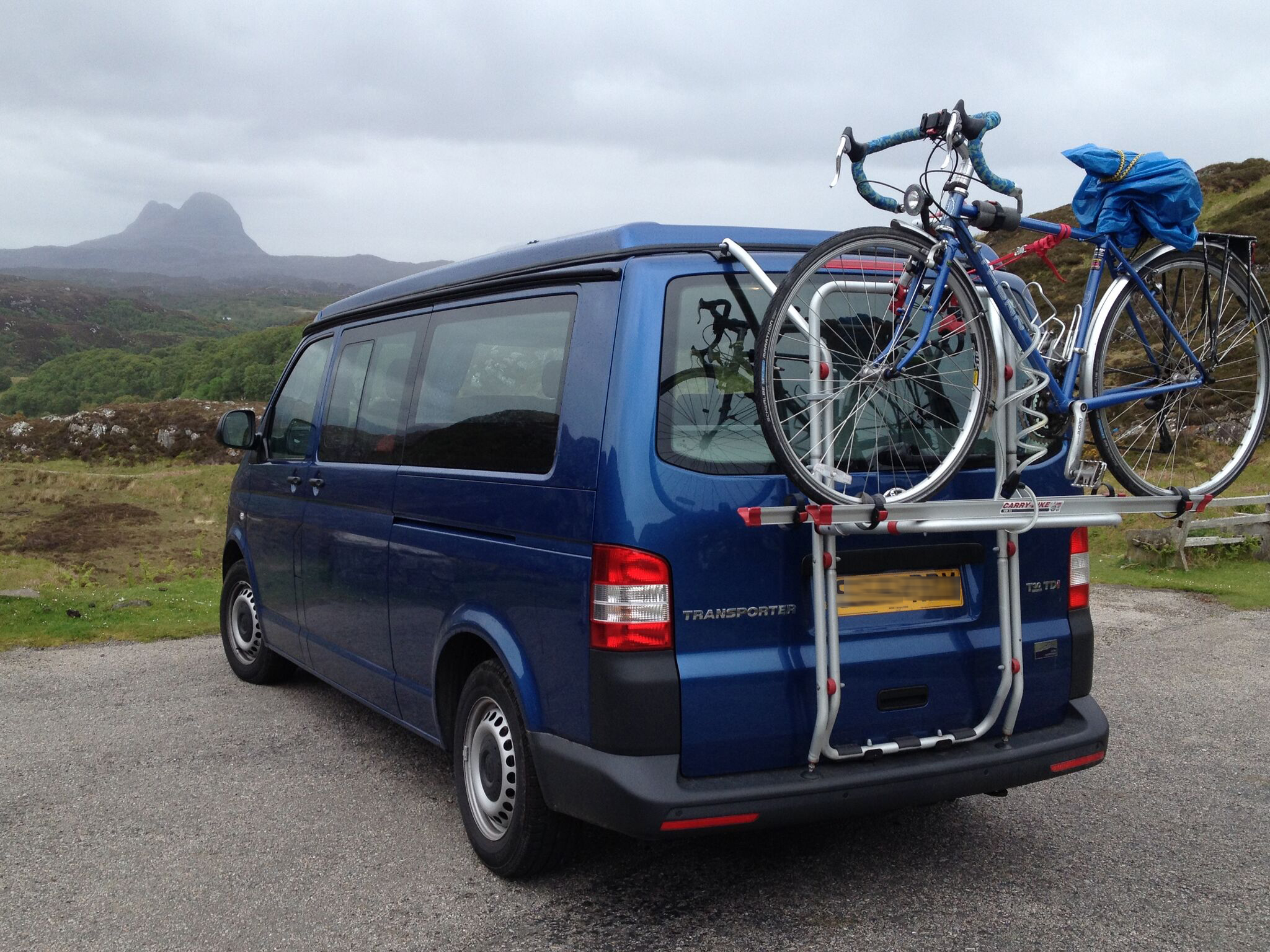 Sula gazing at her namesake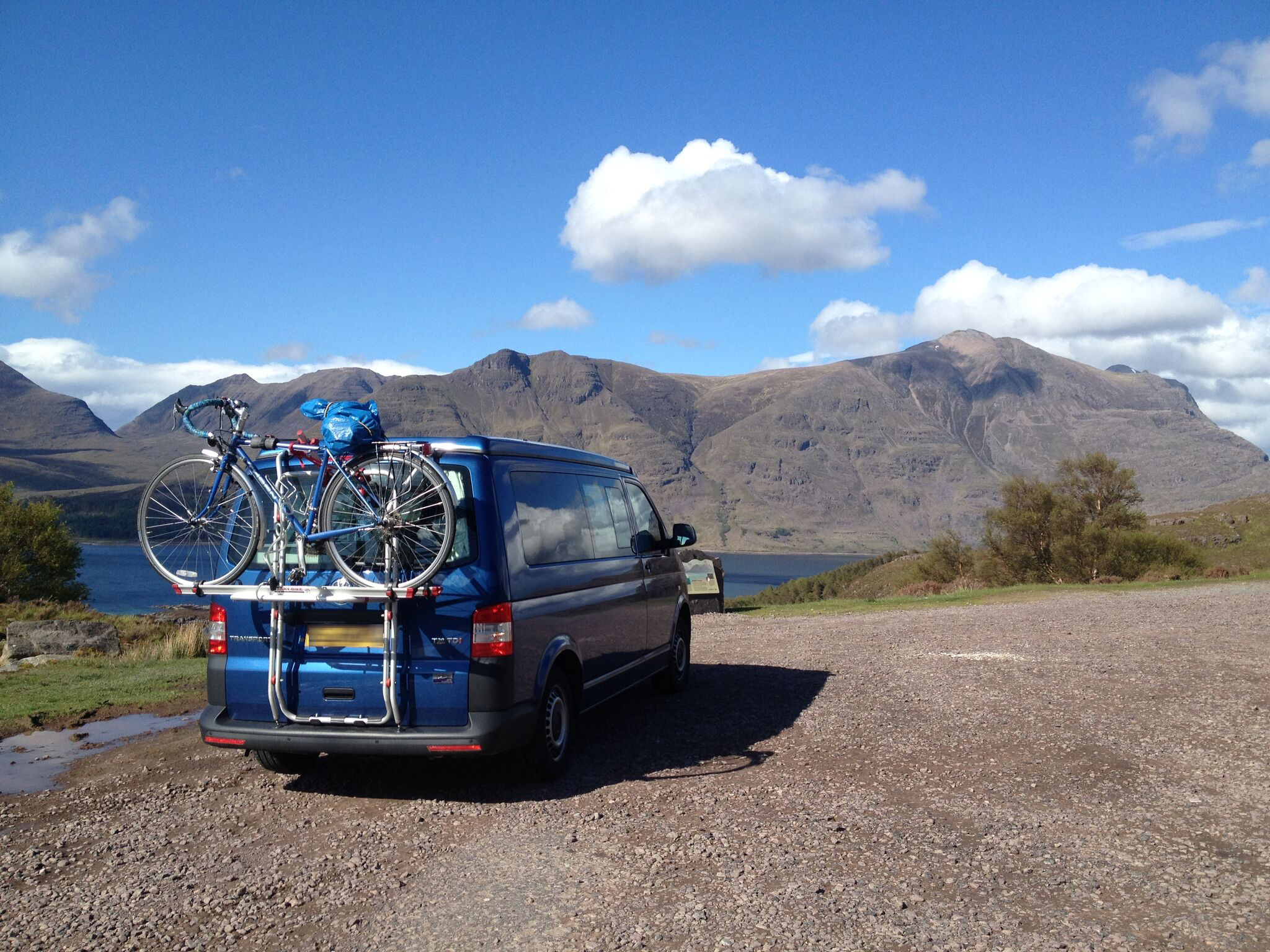 Admiring the view near Achnasheen
It came as a surprise somehow when I had to take her for her first MOT this winter – of course she passed – but then I've already enjoyed plenty of trips – over to Wales visiting friends, up and down to Scotland numerous times on the A1 and over to the highlands and islands.
I'm also working my way around the Wild Atlantic Way and Antrim coast of Ireland in instalments. I've lost count of the number of ferry crossings we've done so far – the longest from Belfast to Birkenhead when poor Sula ended up coated in salt spray on the open top deck after a rather rough crossing.
Nearer to home I love popping over to Norfolk for a night or two, it's so quick and easy to just load my bike on the rack, add milk and go.
Peaceful camping in Norfolk
Norfolk
Wells-next-the-sea beach huts (Norfolk)
My first big trip was up the west coast of Scotland (taking in Suilven naturally) as well as many other highlights including Kerrera Island off Oban which I last visited 40 years previously as a geology student. My final destination on that journey was a cycle ride out to Cape Wrath, a long held ambition.
The walk into Sula Bheinn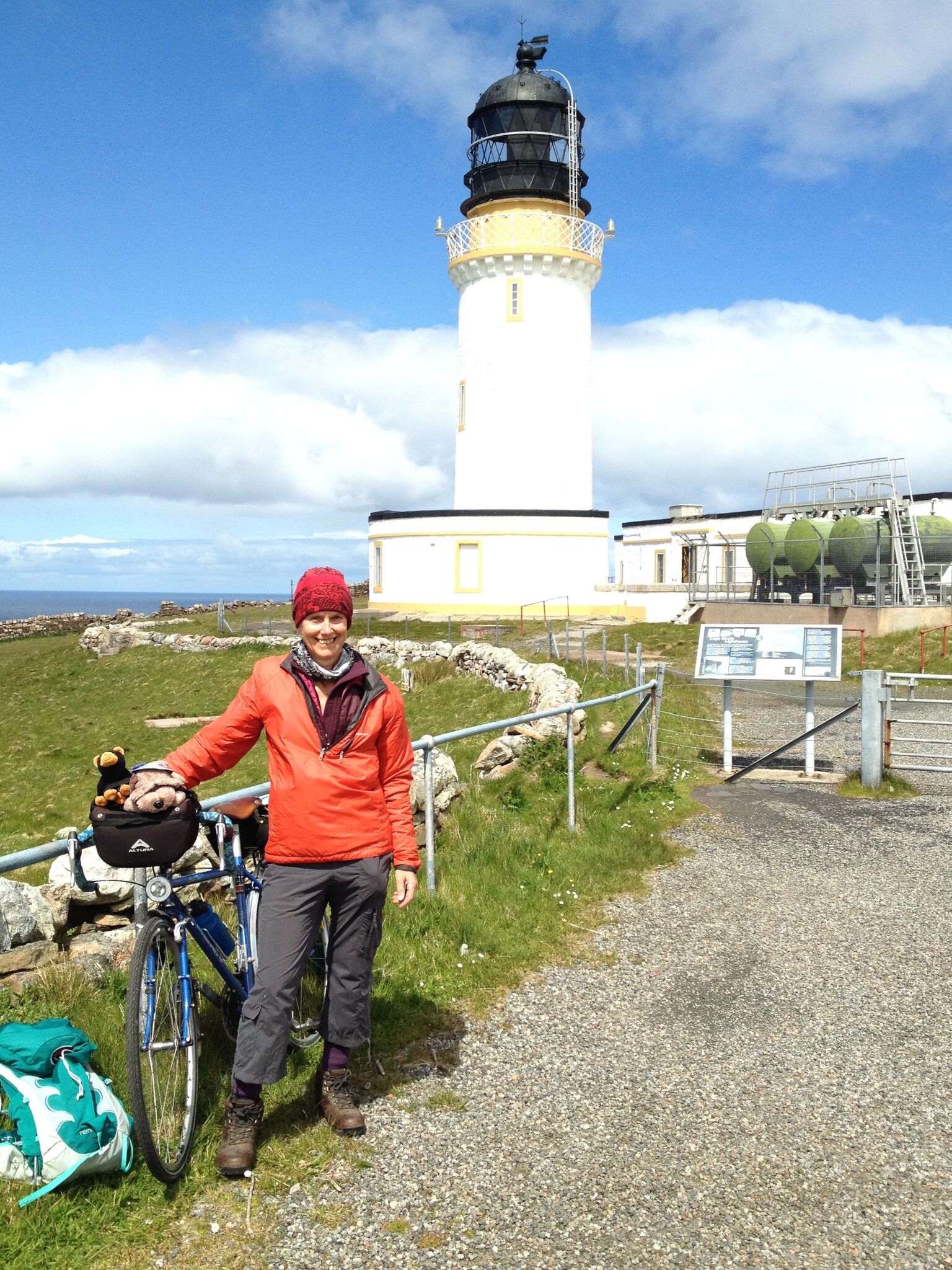 We made it! Cape Wrath
Kerrera afternoon tea
Enjoying sunshine after rain
Sunset lambs Clachtoll campsite
An islands extravaganza last year took me via Mull over to Ardnamurchan for a quick visit to Sanna Bay and then onto Raasay where I meet with friends and we had the excitement of driving Sula along Calum's Road. If you've not encountered that it is a literally hand built road, the labour of one man Calum determined to join his isolated community to the road network. It is truly epic as it twists and winds over and around the rocky landscape so I was glad of the blow by blow account of forthcoming double arrows and bends on the road from my navigator!
Waiting for the ferry to Ardnamurchan
Looking back to Mull from Kilchoan campsite
Off to check out Sanna Bay – as Sula is a Sanna conversion
It's a beautiful bay
Spotting highland cows is a minor hobby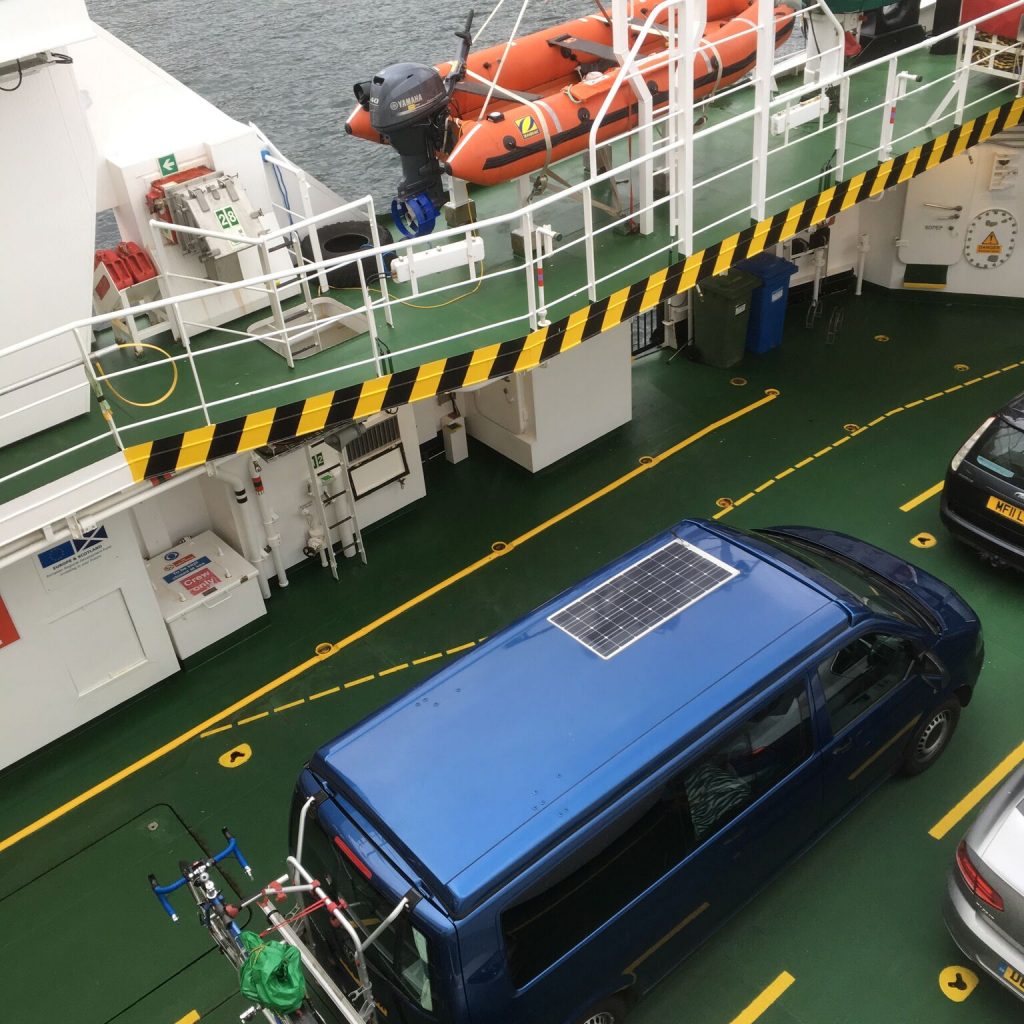 Ferry to Raasay – a chance to check out the solar panel
Setting off up Calum's Road – note the old wheelbarrow
We made it back safely!
This was the trip where I finally lost track of the ferry count – having headed towards Skye and Raasay via Mull on a spur of the moment phone call to CalMac from a layby on the side of Loch Lomond I was on a roll. So it was onto the Outer Hebrides and again some wonderful times traversing the islands, enjoying the company of locals and other campers.
Barra is beautiful. I think I cycled every inch of tarmac and walked the watershed – crowned with a golden eagle and sea eagles. And of course I watched a plane land at the famous beach airport. But the highlight was my solo camping trip out to Mingulay off the southern tip, which had been Ian's favourite Scottish island, from his time out there in the 1970's with the Schools Hebridean Society. Francis Gillies of Barra Fishing Charters took me out, when the weather finally co-operated, and I had two wonderful nights camped on a small grassy patch overlooking the bay. Just the seals and puffins for company with an occasional corncrake rasping away. It was truly magical as dusk fell and the seals all gathered in a huge huddle on the beach to sing a haunting chorus. Sula waited patiently in the Castlebay harbour car park for my return. It's handy having a van that will fit into normal parking spaces, even if as a long wheel base I sometimes have to stretch the limits.
Servicing before take off at Barra Airport
A sunny afternoon on Mingulay
Mingulay old school house with tent on the green and view back towards Barra
Back on the mainland I was proud to cycle round the whole Applecross circuit over the Bealach na ba or pass of the cattle and delighted to find the Applecross herd of highland cows still in residence – I'd last met them when ian and I rode our tandem round here 15 years ago. These days you have to watch out though for convoys of sports cars on the NC500.
Yes I cycled round the Bealach na ba or pass of the cattle
Applecross herd of highland cows
Ireland has been simply wonderful – three trips already and still a gap to close around Connemara. Though getting there the first time was a near miss. My sister was with me and as we drove into the ferry terminal at Fishguard I remarked that I didn't recognize the company logo. Grabbing my phone and booking paperwork I went up to the reception counter, announcing 'I think I've come to the wrong place'. The response from the guy on duty was to reach under the counter, pull out a little pre-printed slip of paper of directions to Pembroke dock and say to me 'don't worry, you've got plenty of time, it doesn't go until 2 pm'. At this point I nearly burst out laughing. When I said that I obviously wasn't the first he said no, but I was the first that day! So after a 5.30 am start from Peterborough we had another 25 miles to drive. And of course everyone knows the ferry goes from Fishguard to Rosslare, don't they? Well now you know there's also one from Pembroke.
The Irish welcome as we arrived at our first campsite as the sun went down set the tone for all my Irish travels since. The Wild Atlantic Way is well signed, takes in lots of beautiful scenery and historic sites. The lanes are sometimes narrow and I think if Sula had teeth the fillings would all have rattled out by now. But as a small vehicle she's ideal and my style is to stop a couple of nights and cycle round the most intricate bits enjoying the scenery from two wheels before skipping across in the van to the next section.
Waiting to board the ferry at Pembroke
Sula and Liz at the start of the Wild Atlantic Way
Sisters start the Wild Atlantic Way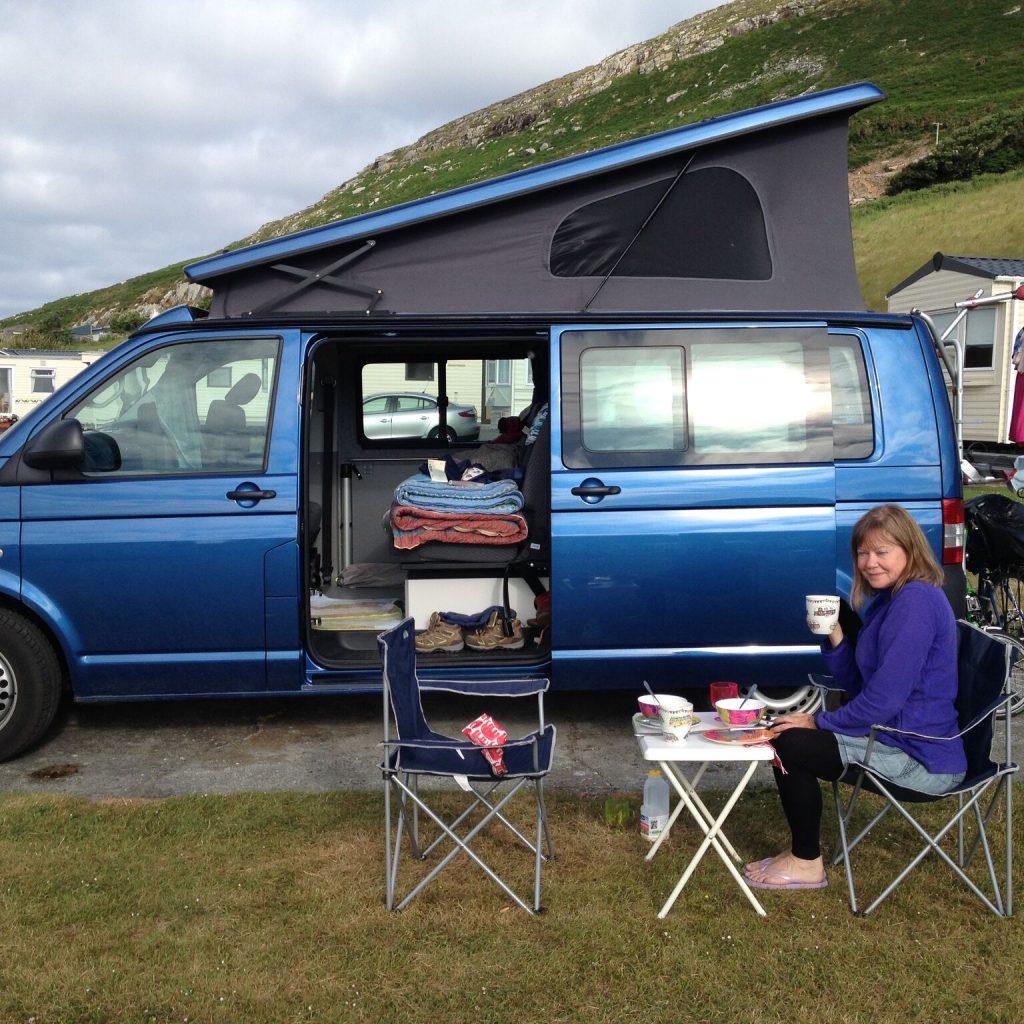 Breakfast at Crookhaven
We can't wait for a paddle
I seem to have become an accidental lighthouse collector, there are some fascinating ones in fabulous locations around Ireland. At Mizen Head Liz and I marveled at the geology whilst up north on Rathlin Island I had a chance encounter with the great grandson of one of the lighthouse builders. And at Dursey Island I experienced Ireland's only cable car, sharing the first cabin out with a shepherd and his dogs. I'd been on the Mont Blanc cable car the month before and the contrast was noteworthy to put it politely, each stunning in their own way.
Mizen Head Lighthouse
Cable car to Dursey Island
Fellow passengers to Dursey
South lighthouse Rathlin Island
In Donegal I was thrilled to meet Eddie Docherty, an original Irish weaver. He now runs his own small tweed workshop in Ardara and has fascinating tales of starting work as an apprentice on the mill shop floor over 40 years ago.
Further round into Northern Ireland, as a geologist I made a long overdue visit to the stunning Giants Causeway. And my travels in this area were enlivened by the Game of Thrones tourist trail. Now I've yet to watch the series, but it certainly added to the entertainment when a coachload of groupies all kitted out in their fantasy costumes with shields and swords descended on Ballintoy Bay.
Donegal weaving workshop
Portsalon Bay Donegal
The Dark Hedges
My most recent Irish highlight has been back down in the south west and another location made famous by the film industry – Skellig Michael. Yes, I've stood on the spot where the Millenium Falcon landed (OK that's Star Wars if you're not a fan). It is a stupendous location, out on the edge of the Atlantic and incredible to think of the monks building their beehive huts out there in the 6th Century. I was so lucky to get a last minute cancellation place on a boat trip to land there. Numbers are very limited for this precious world heritage site and the global appeal has meant bookings sell out instantly on the internet.
Sula with Skelligs on the horizon
Skellig Michael beehive huts
Skellig Michael history lecture
Millenium Falcon landed here
West coast sunset
And I can't leave Ireland without mentioning my favourite campsite there, the Apple Farm, strategically located in Tipperary just off the Irish M8 en route to the south west. You get a free bottle of apple juice on arrival, camp amongst the orchards and can enjoy shopping for apples and juice too.
The wonderful apple farm shop
So what next? Well, we'll be back to Scotland of course, with more islands in my sights as well as calling in on friends up there. And I've plans for some mini cycle camping trips based off the van now I've sorted my solo camping kit out and figured out where it all hides in Sula. Then the big one, we're off to sunny Spain later on for a continental adventure. The campervan crew are highly excited already.
The Campervan Crew