The Jerba Pop Top Roof for VW T5 & T6 Transporter
Sorry, to view this content you will need to accept cookies.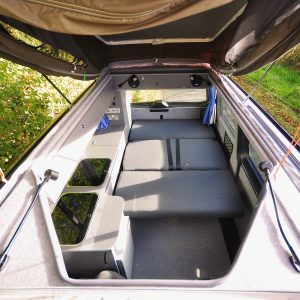 5 Minute Removable Canvas that Anyone can do at Home
Just unzip and slide the canvas free making it so simple for a customer to repair, treat, dry or even replace the whole canvas at home. If your Jerba Elevating Roof canvas needs any repair then there's no need for a specialist converter;  remove it at home and post it off – saving you travel time and hours of labour costs to remove and replace.
Condensation Free
Using very high specification 100% cotton Ventile material means full breathability but also excellent water and wind tightness. Ventile is spun, woven and dyed in Switzerland and is used worldwide by organisations such as NATO. This high performance cotton fabric is a step above the regular cotton fabrics used by other elevating roof manufacturers. Take a look at our The Importance of a Ventile Cotton Roof Canvas blog article to understand the key advantages of a Ventile roof canvas.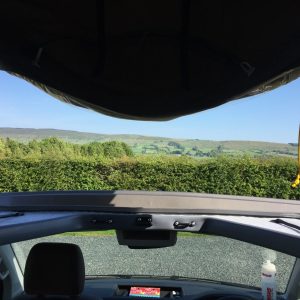 Fully Unzippable Pop Top Canvas
The Jerba Elevating Roof features a watertight zip manufactured by global market leader YKK. Take a closer look at the vast majority of high performance outdoor wear and you'll find a YKK zip. Undo our watertight YKK zip to remove the whole canvas, or just unzip the front to allow in the sun, or to just enjoy the fresh air and take in a view. With a chunky gauge it's simple to zip and unzip, it won't catch, jam and burst.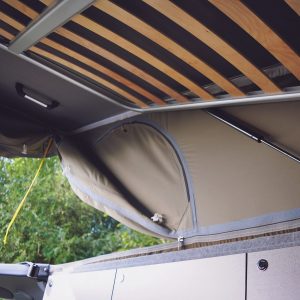 Seam Sealed Stitching
We have invested in a complete seam sealing machine that will make the stitched seams in our Ventile roof canvas 100% watertight – just like your Goretex jacket! The current solution from other campervan converters is to supply customers with a basic tube of seam seal glue for a DIY temporary fix, something that we felt was just not good enough
No Standing Water on the Pop Top Roof
Attention to detail means that the Jerba Elevating Roof is gently curved in a convex shape to always shed rainwater and prevent puddles forming on top of the van.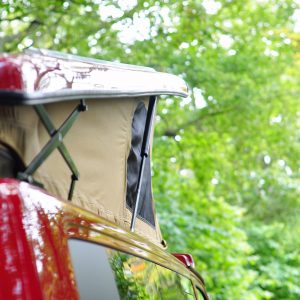 Higher Specification Gas Struts
Having seen too many weak and poor quality gas struts rust, leak fluid and fail on other elevating roofs, we only fit far stronger struts with a wider gauge and far greater durability.The high quality struts we fit make opening and closing the roof simple.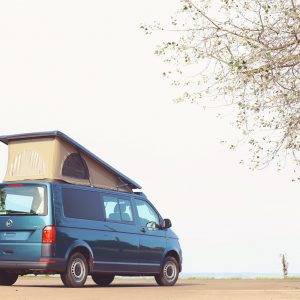 100kg Carrying Capacity (when closed!)
Most pop top roofs have a recommended maximum carrying capacity of 60KG, but our super strong fibreglass structure is 17mm thick which means you can carry kayaks, canoes or just plenty of extra gear hidden away in a roof box.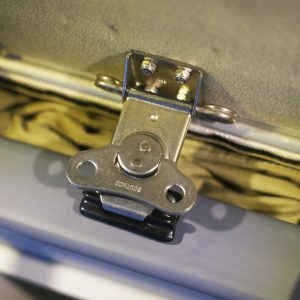 Secure Roof Locking System
The Jerba Elevating Roof is installed with a simple internal rotary lock which is combined with webbing straps. This makes it easy to use and is located in view so you can be 100% sure that it is fully engaged. Other pop top roof designs often hide such locks from view and snagging the roof canvas inside the mechanism can be a real issue. Our lock is finished in stainless steel.
Tough Midge Proof Mesh Screens
We've sourced a tough and durable mesh screen that won't tear and snag. Fine enough to keep the smallest Scottish midge out your camper, you can open vents when cooking without letting in the biting monsters! All our mesh vents can be totally covered or uncovered by either a zip or Velcro flap – so if you don't want a cold draft then you can easily cover it up.
Maximum Closed Height of 2 Metres
Fibre glass construction with a maximum closed height of two metres and a fixed sleek nose cone design that reduces wind noise and compliments the lines and look of the T6.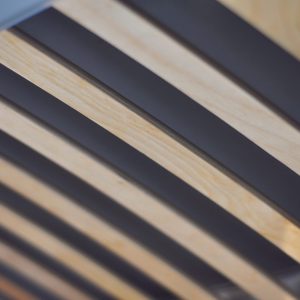 Optional Roof Bed
The Jerba Elevating Roof has the option of a Beech wood slatted roof bed that is 112cm wide and 190cm long that supports a combined weight of 150kg. Unlike a single piece bed board it will flex to mould with your body, making it far comfier and giving you a better night's sleep.The slats also allow air flow and prevent the dampness and condensation that always builds up between a bed board and the mattress above. The mattress is made from 30mm dense foam and has a fully removable zip cover. The bed is 112cm wide and is 190cm long. It will also support a combined weight of 150kg, so it's not just designed for children.
Head Height in the Back
Keeping enough head height in the back for adults to sit in the camper vans rear travel seats is very important to consider – it could affect both how the van can be used and ultimately it's resale value. With our raised fibreglass design on the Jerba Elevating Roof, we give you enough room to fit in a very comfortable roof bed, but still have sufficient head room to fit a market leading rear seat.
The decision to create our own innovative design came after fitting Reimo and SCA roofs for a number of years and continually feeling dissatisfied and frustrated with the quality. Our decision to use Ventile fabric on our canvas has provided many important advantages to our Jerba campers and this article considers the four main ones.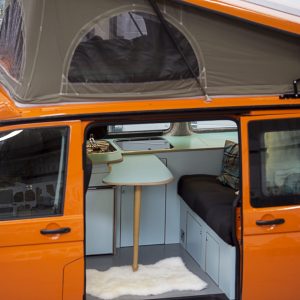 We caught up with Angus and Jayne who recently did their own conversion on their own brand new Transporter T6 camper. Their self-build campervan looks great using both of their skills to create a truly unique VW campervan. We are glad that they found the Jerba roof to be of a quality and standard that matched their own high quality conversion perfectly!
Selecting a conversion company to undertake the task of creating your dream campervan can be a difficult decision. We feel that it is important to select a company that has an impeccably high level of; quality, customer service, corporate social responsibility, safety and innovation. Furthermore, the company must understand your needs!
Sorry, to view this content you will need to accept cookies.
Sorry, to view this content you will need to accept cookies.
Sorry, to view this content you will need to accept cookies.
| Price List | Incl. VAT + Fitting |
| --- | --- |
| Short wheel base front or rear elevating roof – includes the fully unzippable and removable Ventile cotton canvas with stitching tape seam sealed and secure rotating roof lock mechanism. | £4390 |
| Long wheel base front or rear elevating roof – includes the fully unzippable and removable Ventile breathable canvas with stitching tape seam sealed and secure rotating roof lock mechanism | £4570 |
| Spray paint roof to solid colour – roof as fitted is colour coded VW Candy White. This cost is to change that colour to another solid colour of your own choice | £570 |
| Spray paint roof to metallic or pearlescent colour – roof as fitted is colour coded VW Candy White. This cost is to change that colour to another metallic or pearlescent colour of your own choice | £650 |
| Front elevating roof beech slatted roof bed with removable mattress – easily stowed by gas struts when roof elevated. Same price for short or long wheel base | £525 |
| Rear elevating roof beech slatted roof bed with removable mattress – easy stowed by gas struts when roof elevated. Same price for short or long wheel base | £595 |
| Child safety net for elevating roof bed | £90 |
| Folding aluminium ladder to give easier access to roof bed | £125 |