Not only do you schlep around the country with a 15-foot long lump of fibreglass, there's a 2m paddle, loads of clothing, and a veritable mountain of safety equipment to transport. When you're done for the day, every single bit of it is drenched and you're facing a soaking, soggy pile. Compared to running, where all you need is a pair of shoes, sea kayaking is a pain.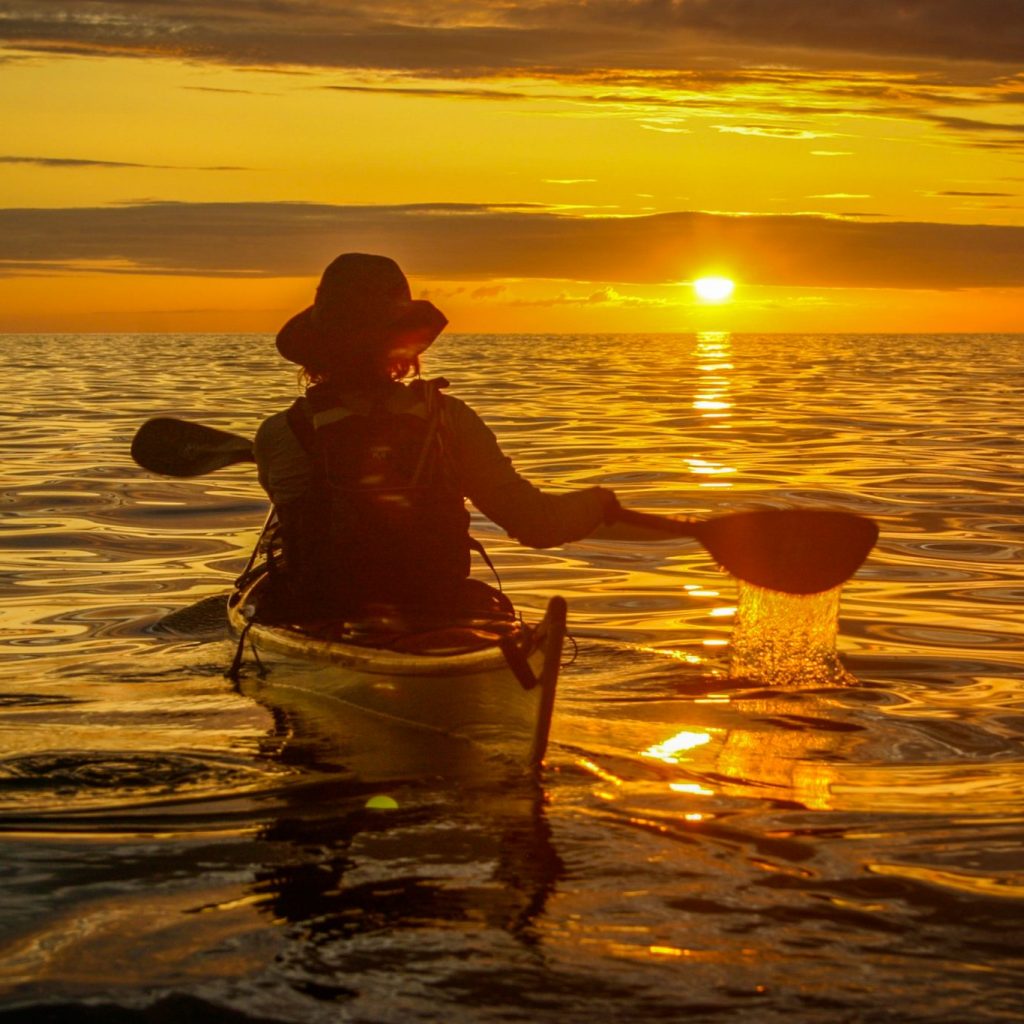 Yet the truth is, I love sea kayaking. It has a unique sense of freedom; the thrill of exploring coastlines, tiny islands and hidden coves which few people have ever seen. Scotland's west coast is a world-class arena for this sport. What Colorado is to ski-ing and the Red Sea to diving, Scotland is to sea kayaking. Even now I can recall the intense excitement of silently slipping into a bay on the north coast of the Isle of Mull, and stealthily approaching two sea eagles perched on neighbouring rocks. This amazing sight transformed into a magical moment as it dawned on us that the Eagles were as curious about us as we were about them. From otters to whales, I've seen more wildlife from my kayak cockpit than from the shore. Every voyage is different. Weather and tides turn familiar journeys into fresh explorations. No-one ever left a footprint on a wave.
Nellie makes getting around so much easier. She's our long wheelbase Jerba Campervan, and I'm telling a few tales of how she has become an integral part of the various adventure sports that feature in our lives.
We travel when time and tide is with us, frequently starting very early in the morning, and Nellie beats any other accommodation. We can camp close to the coast with everything ready to go to make the most of the tidal-streams. Her higher-than-usual ground clearance allowed us to travel over rutted tracks on the Isle of Harris, one of our favourites, and wild camp close to a wonderful beach. Her discrete grey colour and small shape are much less obtrusive than those big white-box motorhomes.
When fitting Nellie out for sea kayaking, a Kari-Tek roof rack was the first addition. Our two sea kayaks are easily carried up top, and removed to camp and raise the roof. Two sturdy waterproof boxes hold all our kayaking kit, one for wet and one for dry, and when we camp these sit outside to free-up internal space. Three smaller boxes hold our personal kit, and these travel on the back shelf, slipping under the bed when camped. This system has taken us the length of Scotland's west coast, through the Outer Hebrides, and to Orkney and Shetland.
Nellie has been a creative space too. At her table I wrote much of my guidebook to The Scottish Sea Kayak Trail. She was a mobile studio, kit waggon and dormitory while the shot a series of sea kayak coaching films, Sea Kayak with Gordon Brown. On the final night of shooting our first film, she even hosted the wrap party. We'd completed a five-day kayak journey along the west coast of the Isle of Skye and had come ashore at Neist Point. The weather was blowing a hoolie, yet somehow seven of us managed to squeeze inside Nellie and enjoy a dram or two. Yes, seven of us. In a Jerba long-wheelbase campervan. Thank goodness no-one brought a tuba!
Simon Willis is the author of Day by Day on the Pacific Crest Trail and The Scottish Sea Kayak Trail guidebook. He produces the world's best selling coaching films Sea Kayak with Gordon Brown. Simon and Liz Willis live on Ardnamurchan in the Scottish Highlands.
Our Jerba Elevating Roof is strong enough to carry up to 100kg, perfect for carrying kayaks. We fit a roof rail and then you can choose from two different types of racks to carry your kayaks.